Page 2 of 10 •
1, 2, 3, 4, 5, 6, 7, 8, 9, 10
Last edited by TheArchivist on Mon Sep 13, 2021 3:39 am; edited 2 times in total
---
2010 ROCKEFELLER FOUNDATION DOCUMENT:
SCENARIOS FOR THE FUTURE OF TECHNOLOGY AND INTERNATIONAL DEVELOPMENT
---
In May of 2010, the Rockefeller Foundation published a document titled "Scenarios for the Future of Technology and International Development", which outlines four possible future courses for human society to follow in the years from 2010 to 2030.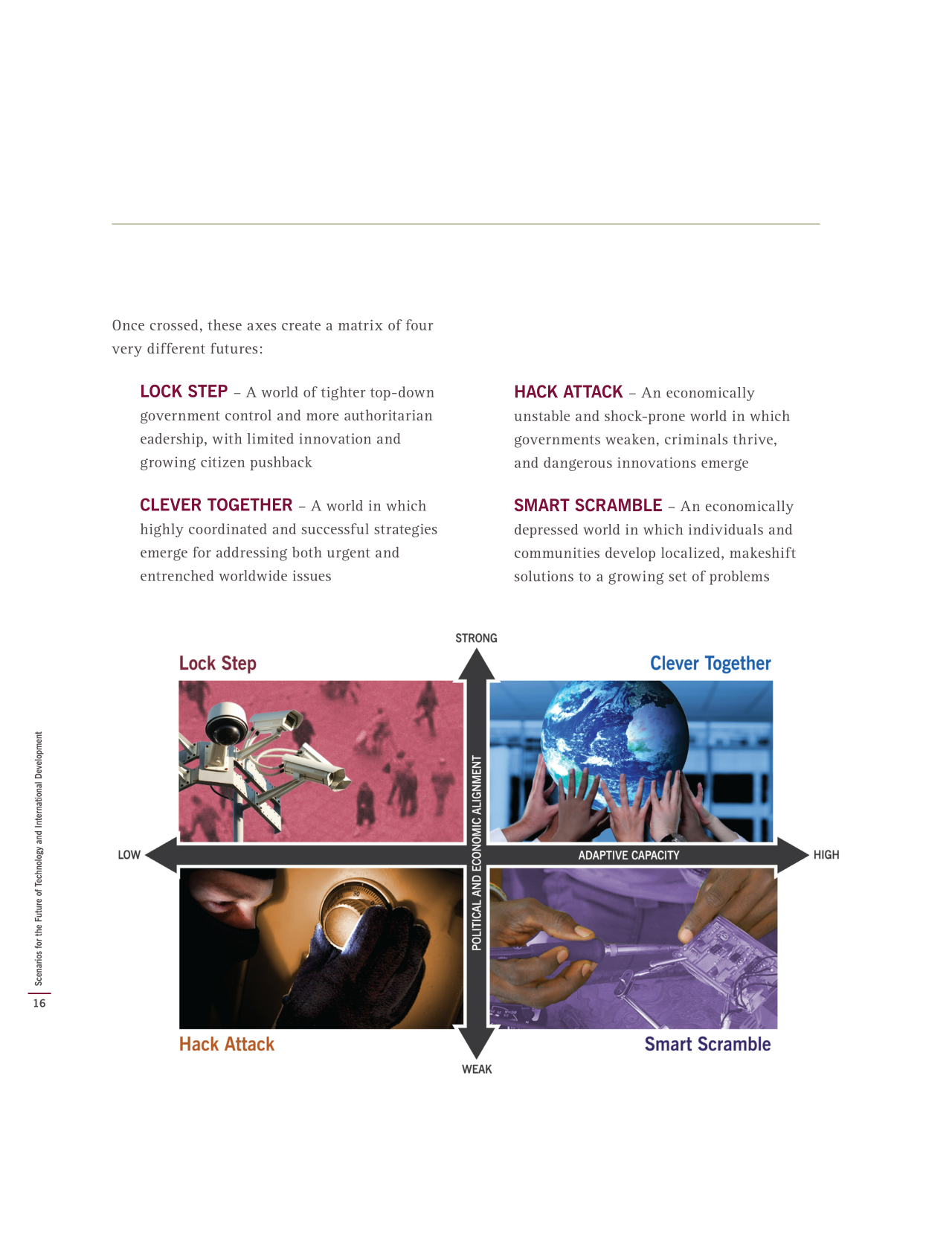 The first of these scenarios, called "Lock Step", describes the coronavirus pandemic perfectly and, even moreso, the heavy-handed political response to it by every government on Earth.
The subtitle beneath "Lock Step" in this document reads: "A world of tighter top-down government control and more authoritarian leadership, with limited innovation and growing citizen pushback".
VIDEO: (April 17, 2020) Dana Ashlie - Document reveals plans, step by step
Last edited by TheArchivist on Sat Sep 25, 2021 8:59 pm; edited 10 times in total
---
FAUCI'S "PREDICTION"
---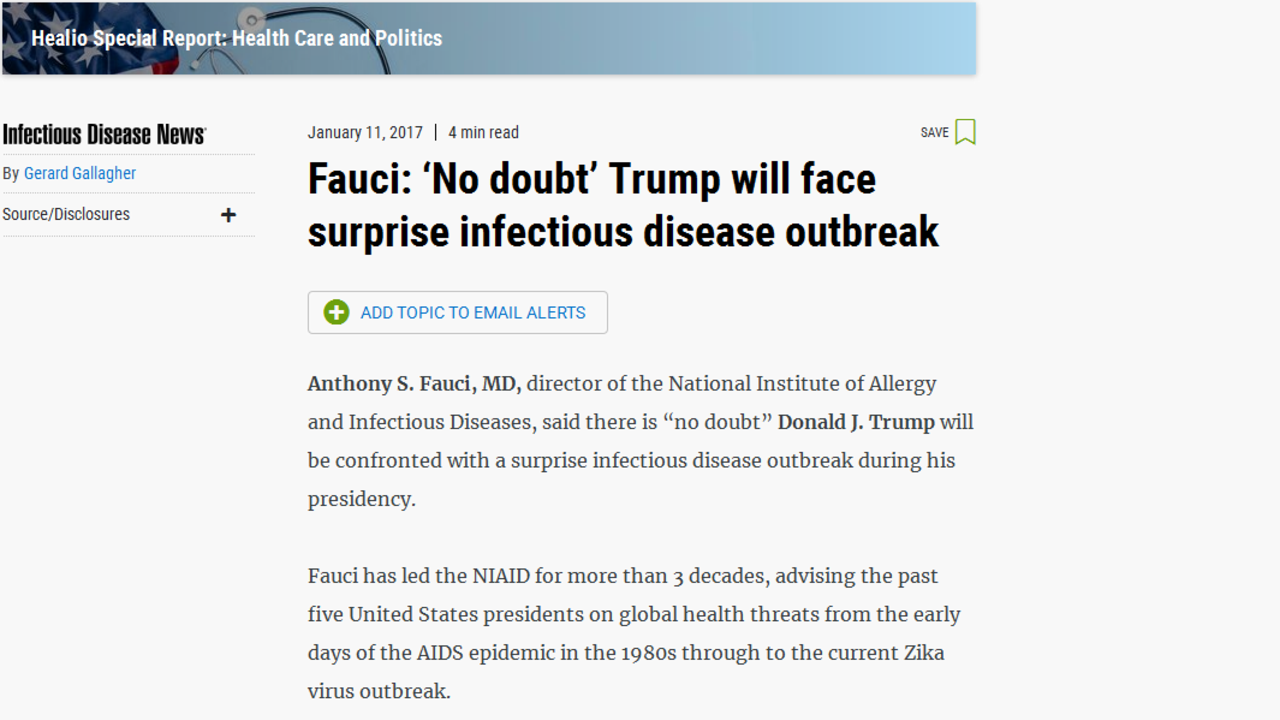 On January 11, 2017, Anthony Fauci, director of the National Institute of Allergy and Infectious Diseases, said there was "no doubt" that Donald Trump would be confronted with a surprise infectious disease outbreak during his presidency.
VIDEO: (January 10, 2017) Anthony Fauci - [via Global Georgetown] Pandemic Preparedness in the Next Administration
03:11-03:36 "And if there's one message that I want to leave with you today, based on my experience -- and you'll see that in a moment --  is that there is no question that there will be a challenge for the coming administration in the arena of infectious diseases, both chronic infectious diseases, in the sense of already ongoing disease -- and we have certainly a large burden of that -- but also there will be a surprise outbreak."
Last edited by TheArchivist on Sat Sep 25, 2021 8:59 pm; edited 9 times in total
VIDEO: (March 10, 2020) Polly St. George - Event 201: Global Pandemic Exercise


03:14-03:58 "Check this out from 2017. 'World Bank launched first-ever pandemic bonds to support $500 million pandemic emergency financing facility.' This is from June 28, 2017. Bonds for a pandemic. The only reason they would do that is if they thought they were going to be able to make a lot of money off a pandemic sometime in the near future. And, viola, you know, not very long after -- not even two years after -- not even a year and a half after --  this all proves very fortuitous for the World Bank."
Last edited by TheArchivist on Sat Sep 25, 2021 9:00 pm; edited 9 times in total
---
CARES ACT INTRODUCED TO CONGRESS ONE YEAR BEFORE THE "PANDEMIC"
---
The 'Coronavirus Aid, Relief, and Economic Security Act', or 'CARES Act' for short (formally, House Resolution 748) was introduced to Congress by Connecticut Representative Joe Courtney on January 24, 2019 --  ten months before the first confirmed case of the Coronavirus in China.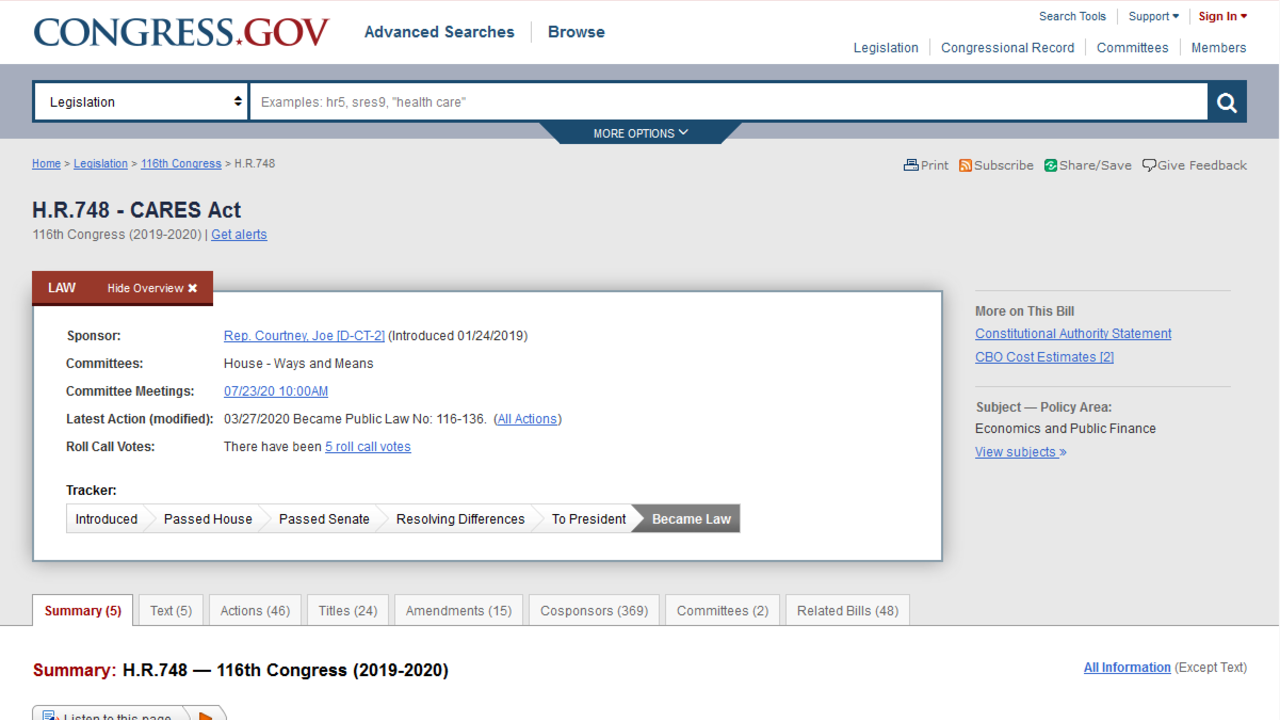 Last edited by TheArchivist on Sat Sep 25, 2021 9:00 pm; edited 8 times in total
---
CDC HIRING QUARANTINE PROGRAM ADVISOR IN 2019
---
On November 15, 2019, the U.S. CDC advertised on its 'Careers' page that it was looking to hire a "Quarantine Program Advisor" by May 2020.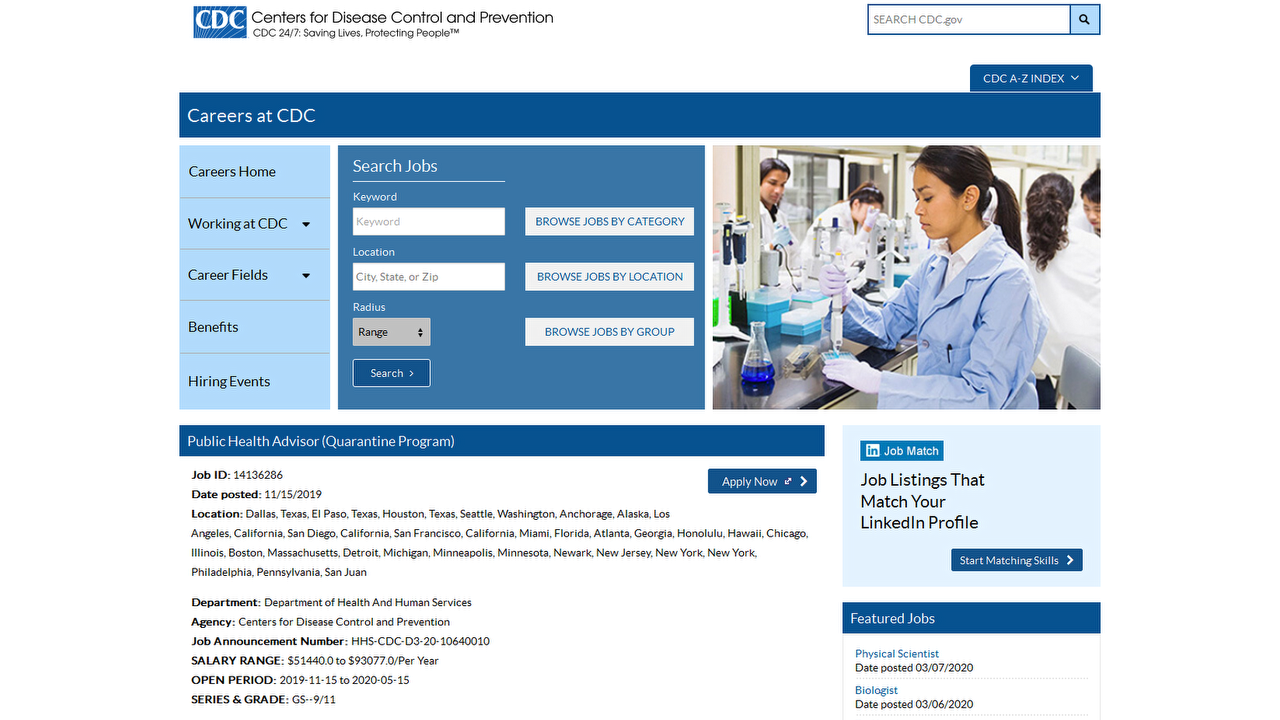 Last edited by TheArchivist on Mon Sep 13, 2021 4:18 am; edited 5 times in total
---
SENATORS DUMPED STOCKS JUST PRIOR TO PANDEMIC, AFTER BRIEFING
---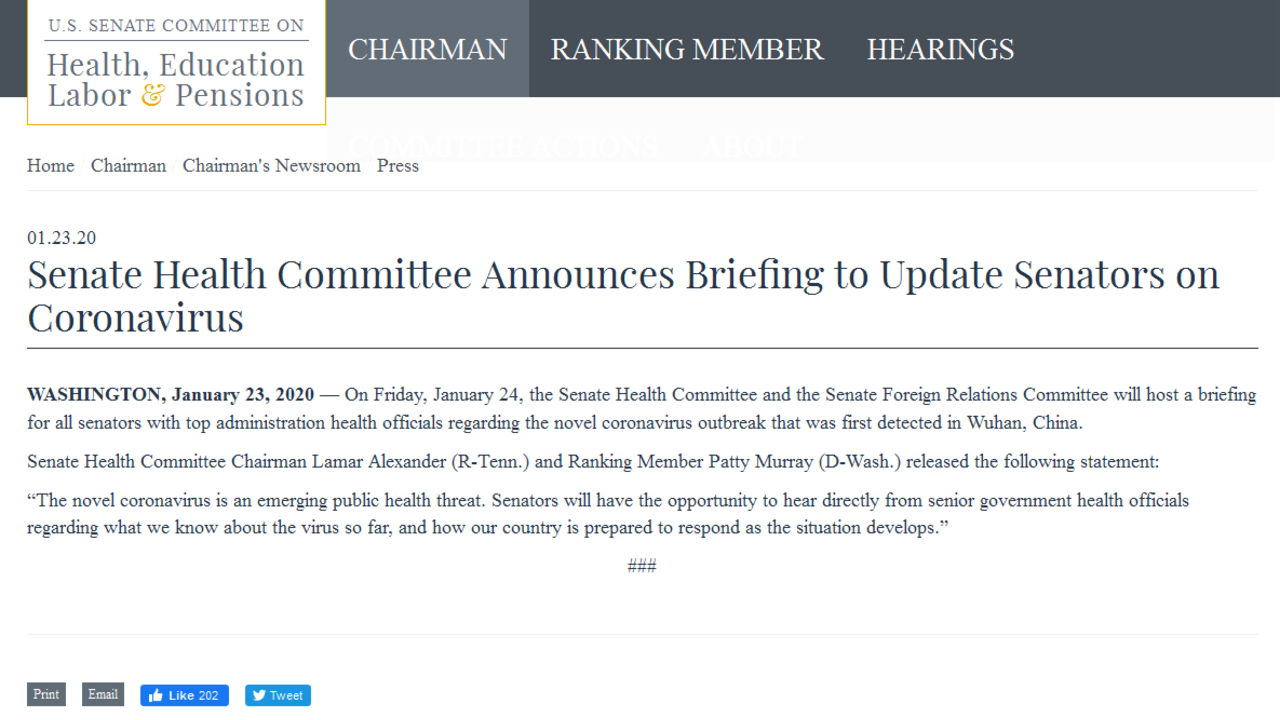 "On January 24, the Senate Health Committee and the Senate Foreign Relations Committee hosted a briefing for all senators... regarding the novel coronavirus outbreak". The Committee publicly stated: "Senators will have the opportunity to hear directly from senior government health officials regarding what we know about the virus so far, and how our country is prepared to respond as the situation develops."
In the three weeks after that briefing, North Carolina Senator Richard Burr sold off 1.72 million dollars' worth of stock; Georgia Senator Kelly Loeffler -- who happens to be the wife of New York Stock Exchange chairman, Jeffrey Sprecher -- sold off twenty million dollars' worth; California Senator Dianne Feinstein sold six million dollars' worth; and Oklahoma Senator James Inhofe sold off $400,000 worth.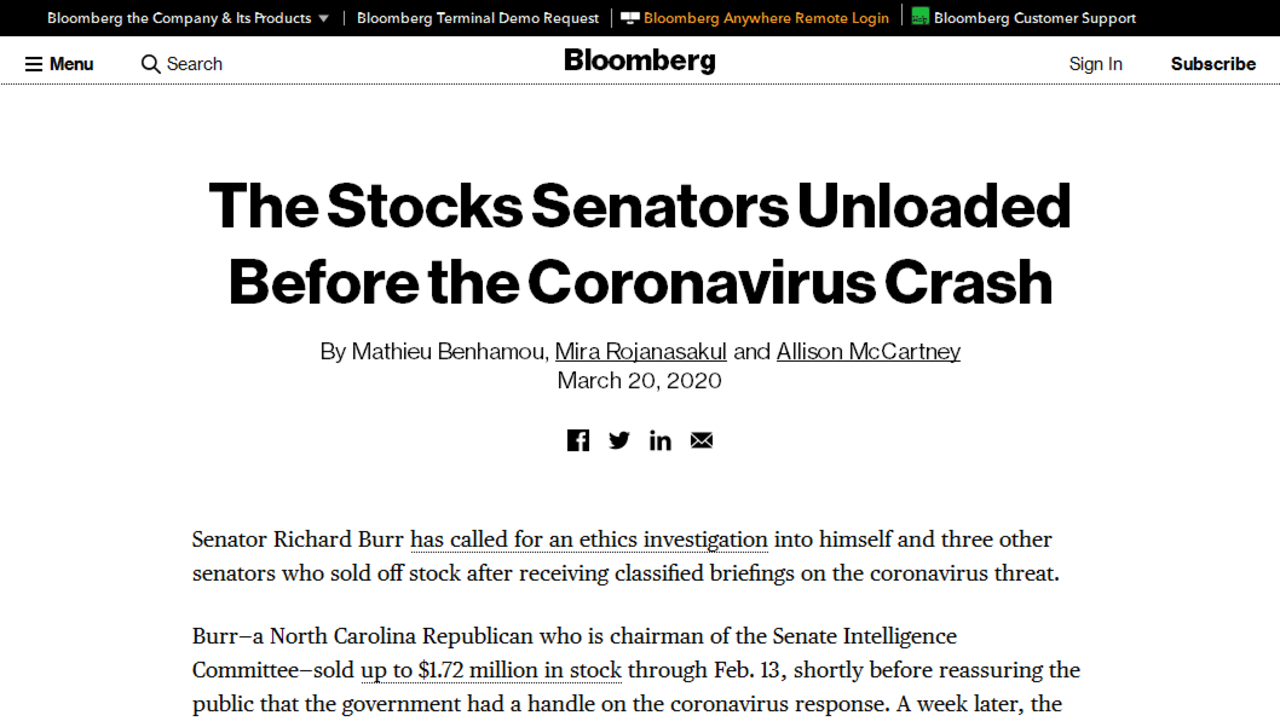 One week after the conclusion of these sales, the S&P 500 Index began what would become a 30% drop. The value of every stock dumped by the aforementioned Senators dropped sharply.
Last edited by TheArchivist on Mon Sep 13, 2021 4:20 am; edited 5 times in total
---
EVENT 201
---
1. Introduction
The current staged "pandemic" was rehearsed on October 18, 2019 by the World Economic Forum, the Bill and Melinda Gates Foundation, and the Johns Hopkins Center for Health Security, in a "tabletop pandemic simulation" they called "Event 201".
Fifteen representatives of the international banking, pharmaceutical, logistics, and communications industries participated in this event and gave their recommendations for a unified response to the hypothetical worldwide outbreak of a novel coronavirus.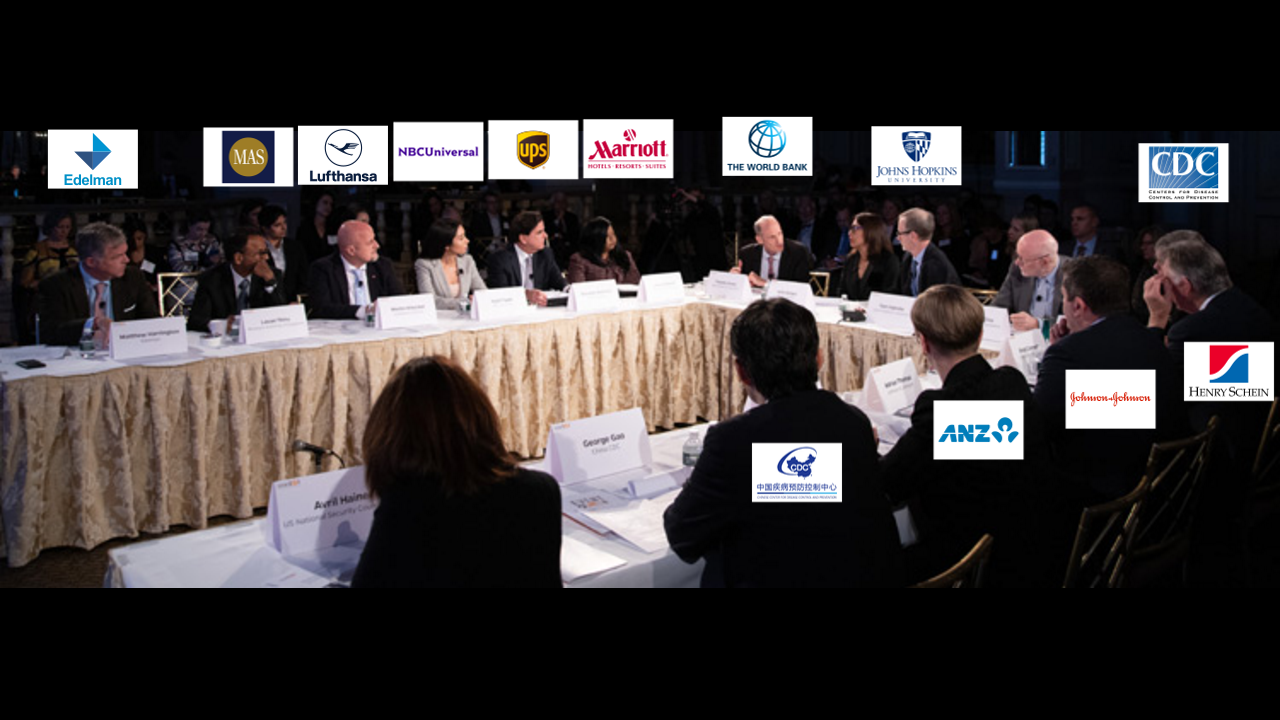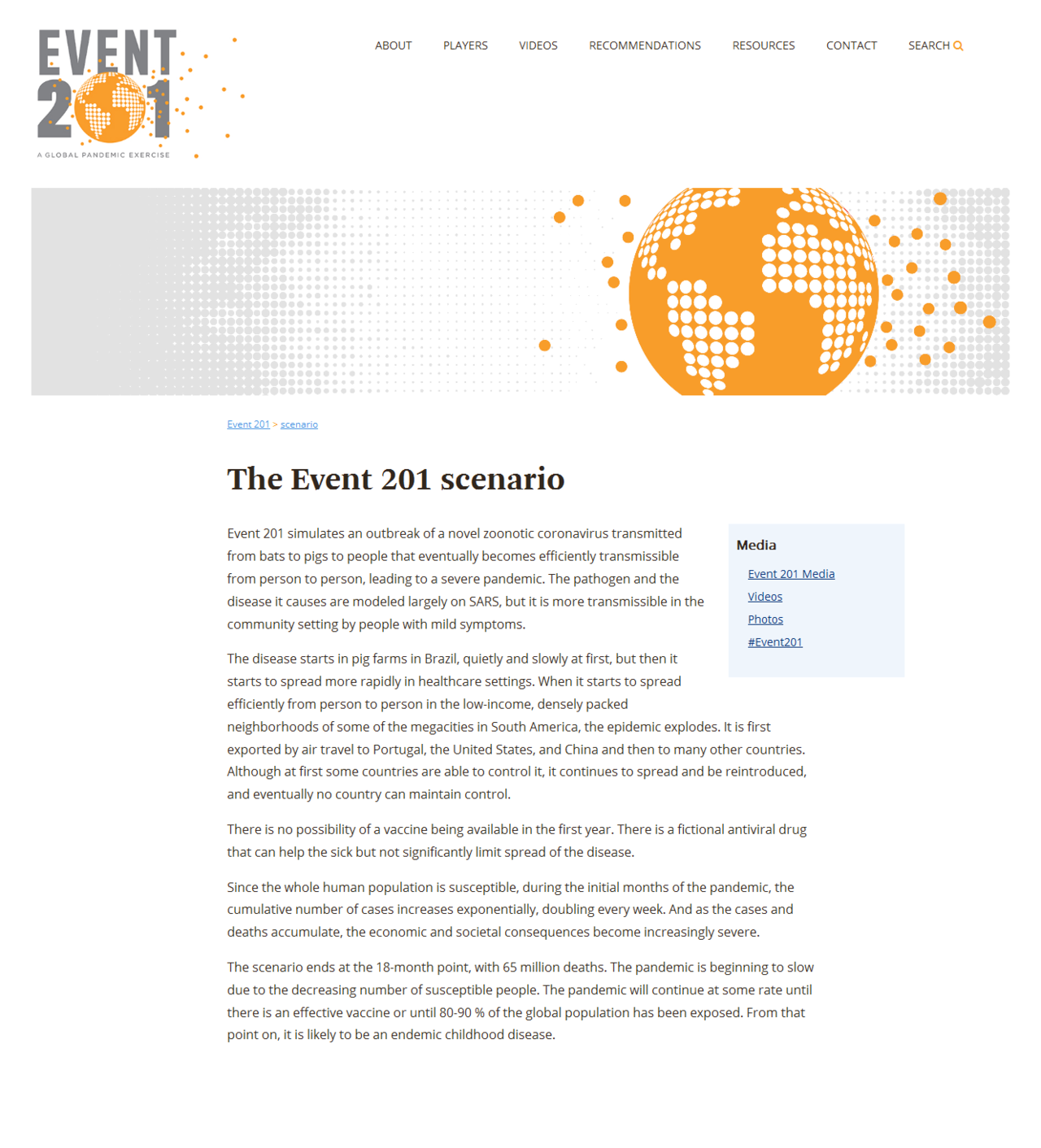 "The exercise illustrated areas where public/private partnerships will be necessary during the response to a severe pandemic in order to diminish large-scale economic and societal consequences."(Editorial note: Event 201 was recorded as video and made publicly available by the Johns Hopkins Center for Health Security, at https://www.centerforhealthsecurity.org/event201/videos.html. There are five videos corresponding to the five segments of the exercise; these are what is referred to in the quotes below.)
Segment 1 (Introduction and Medical Countermeasures)Segment 2 (Trade and Travel)Segment 3 (Finance)Segment 4 (Communications and Epilogue)Segment 5 (Hotwash and Conclusion)[Segment 1]
00:32-00:55 "The goal of the Event 201 exercise is to illustrate the potential consequences of a pandemic and the kinds of societal and economic challenges they would pose. The scenario also highlights the very critical role that global business and public-private partnerships play in preparing for and responding to pandemics."
---
2. Public-Private Partnerships
As can be seen even in these introductory remarks, Event 201 was characterized by its emphasis on "public-private partnerships". This is a coded phrase that refers to a favorite tactic of those with ambitions of global power to bypass sovereign nations' laws completely. Instead of submitting recommendations and proposals to national governments for review (and possible rejection), they disseminate and enforce their desired policies directly through their multinational corporations, on which most people are now entirely dependent for survival.
a. [Segment 1]
07:25-07:30 "And we know from past responses that public-private cooperation will be essential."

12:53-12:57 "...it's a public-private collaboration to develop a globally connected supply chain"

37:35-37:42 "...a centralized command-and-control organization that really brings together the public-private sector"
b. [Segment 2]
30:01-30:09 "And that's where a type of public-private collaboration that we have not generally had in these crises needs to be put together pretty quickly."
c. [Segment 3]
26:27-26:36 "So we aren't going to have to help work through public-private partnerships to support companies -- but not all companies. The ones that are critical to sustaining that global supply chain..."
d. [Segment 5]
1:08-01:16 "That's why prior planning and promotion of routine public-private cooperation in advance of the next pandemic is really critical."

03:46-03:53 "But public-private cooperation is necessary in order to explore potential solutions to that really difficult problem."
---
3. Sovereignty
Underlying everything dealt with in the Event 201 scenario was the assumption that these unelected, non-governmental figures possess the right to make decisions for every other human being on Earth. National governments, such as the Republic that is the United States of America, are spoken of as mere enforcers of global decision-makers' will.
The issue of national sovereignty -- a nation's inherent right to govern itself -- appeared twice during Event 201.
a. [Segment 4]
30:53-31:48 "...it's important that the U.N. and W.H.O. remain very clear, but when they challenge governments directly, they often get into this issue of sovereignty. And so I think it's really important not to have that as the only response. I think it's really critical to think about soft power influence, which is other influentials, who can call up the head of state, or powerful constituencies within those countries. We've seen this in the context of mobilizing religious leaders in the context of polio, or specific business leaders where you can soften perhaps a very hard line from government through less,  more stealth in entry points, rather than trying to punish them through the international health regulations or something like that."
b. VIDEO: (March 15, 2020) Polly St. George - Event 201: Viral Marketing
05:21-06:02 "He looked mighty proud of himself at the end there: 'Hmmm... stealth mode. Let's go into stealth mode.' You hear of what he said? 'If we try to push these governments to do things, we run into the issue of sovereignty.' Yeah -- as you should. Nation-states are sovereign; they get to make their own decisions. The people decide which leader's platform they like best and we choose it and the leader is supposed to do our bidding. In essence, sovereignty means the will of the people. This guy wants to undermine it. it's obvious. I mean, he talked about the way to get around soveriegnty."06:13-07:17 "National sovereignty. Well, obviously, globalists don't like national sovereignty. They want to be the boss, and they want your tax dollars to go to them so they can boss you around from god-knows-where, with no real concern about your local issues or what goes on in your country or anything of that nature. And they're bureaucrats -- how can we trust them to get anything done? You see, when you try to work with a bureaucracy in your own country it's already bad enough. Imagine if it was in Belgium and they were trying to look after the entire world. You really think anybody's capable of that, let alone a bunch of pointy-headed bureaucrats who've never really created anything in their whole lives? I don't. Yeah, that was quite the stunning admission on that guy. And he said: you have to use their... the world leaders bristle when international bodies try to tell them what to do, so what we have to do is secretly call up influential people who the leader might respect and get them to harangue him, get them to pressure the government. And we see this all the time."
The other time sovereignty was mentioned, it drew bemused chuckles from several participants.
c. [Segment 2]
28:05-28:22 "The U.N., I agree with Tim, can be there, and in a supportive capacity to coordinate to assist, but people run into the question of sovereignty every time [general laughter] and so governments need to be empowered and capable of helping their citizens."
Sovereignty seems to be something that globalists feel they must humor us about, like some cherished, old, rag-doll relic that we silly citizens just can't give up.
---
4. Much is revealed by the narrow range of subjects
and perspectives discussed by the Event 201 "players", as well as by what wasn't discussed. There was much talk of global supply chains, global allocation of pharmaceuticals, and public-private partnerships, yet there was very little mention, if any, of issues like healthcare capacity or the economic survival of individuals. Real humanitarian concern seemed absent from the meeting.
a. VIDEO: (March 20, 2020) Polly St. George - 2020-03-20 We Are Being Played
30:03-30:18 "All they talked about was getting their message out so that the public would believe whatever they said. That's literally all they talked about, besides positioning themselves to try and get some money. That's, that's it."
---
5. The three primary concerns expressed at Event 201
were:
a. centralization of power into international (global) hands[Segment 1]
11:30-11:36 "...developed
global mechanisms
to ensure cross-sectoral and multinational/multilateral coordination."
15:33-15:38 "And there are problems emerging that can only be solved by
global business
and governments working together."
33:48-33:57 "But unless that is done in a
global context
, and it's done very early, we will end up with a situation where the entire supply chain will have gone."
41:10-41:21 "So this is where I think a collaboration between the
international organizations
like the World Health Organization, and the private sector, which runs the supply chains, for many purposes every day..."
46:08-46:15 "So I think it requires a
global coordination
, and not just at the individual country-specific level."
48:32-48:39 "...we need to have some kind of
international mechanism
for coordinating what it is that we would be doing also for collecting information..."
[Segment 2]
16:08-16:12 "So, an
international approach
would be highly desirable for companies that are moving goods."
[Segment 5]
18:00-18:12 "...but that it has some real accountability to agents that lie behind or are advocating for a stronger
global governance
"
b. procuring funding for the pandemic response[Segment 1]
32:44-32:56 "What we've seen work very well in the HIV field is in fact procurement through the Global Fund. So having a centralized mechanism, so financially, financially able to procure on behalf of affected countries can be critical."

44:01-44:19 "...likewise on the financing, there is global financing. The criteria identified here would be triggers for the pandemic emergency financing facility, which would disperse a significant amount of money into that international pool on the basis of this trajectory, the epidemic."
[Segment 3]
25:01-25:08 "U.N. agencies are now calling for the establishment of a pandemic-related trust fund, and calling for contributions."
[Segment 5]

03:21-03:26 "Countries that would have to support this effort through the provision of additional funding to WHO."

07:04-07:07 "Any thoughts from among you on how to increase that funding?"

27:18-27:23 "...the issue of funding, right? and actually attracting greater funding to this issue."

04:26-04:46 "...we should increase and reassess pandemic financial support. The World Bank, The International Monetary Fund, regional development banks, national governments, and foundations should explore ways to increase the availability of funds in a pandemic and ensure that they could be flexibly used when they're needed."
c. maintaining strict control of what information the public received about the eventVIDEO: (March 20, 2020) Polly St. George - We Are Being Played
41:28-41:37 "They totally control the message. They control the message by 'flooding the zone'. Do you remember this from Event 201?
[Segment 4]
08:10-08:16 "...partnering with the scientific and health communities to counterweight if not flood the zone..."08:52-08:57 "And we do have, I think, a couple of strategies that are available to us, one of which is the flood strategy..."11:50-11:51 "...a manifestation of flood..."19:35-19:42 "...but rather flood the zone in the sense with a trusted source that then is influential community leaders..."27:04-27:05 "...misinformation and flooding..."
VIDEO: (March 20, 2020) Polly St. George - We Are Being Played
42:00-42:17 They decided their best plan was to 'flood the zone' with their information. And that way they could scare everybody, scare the government, intimidate politicians, intimidate everyone into doing what they wanted. And it is working. It is working like a charm."
[Segment 4]
05:19-05:36 "National governments are considering or have already implemented a range of interventions to combat misinformation. Some governments have taken control of national access to the Internet. Others are censoring websites and social media content, and a small number have shut down Internet access completely..."09:07-09:18 "But we also need to actually think about a technological answer to this. So there is work that's being done to actually create algorithms to sift through information on these kinds of social media platforms."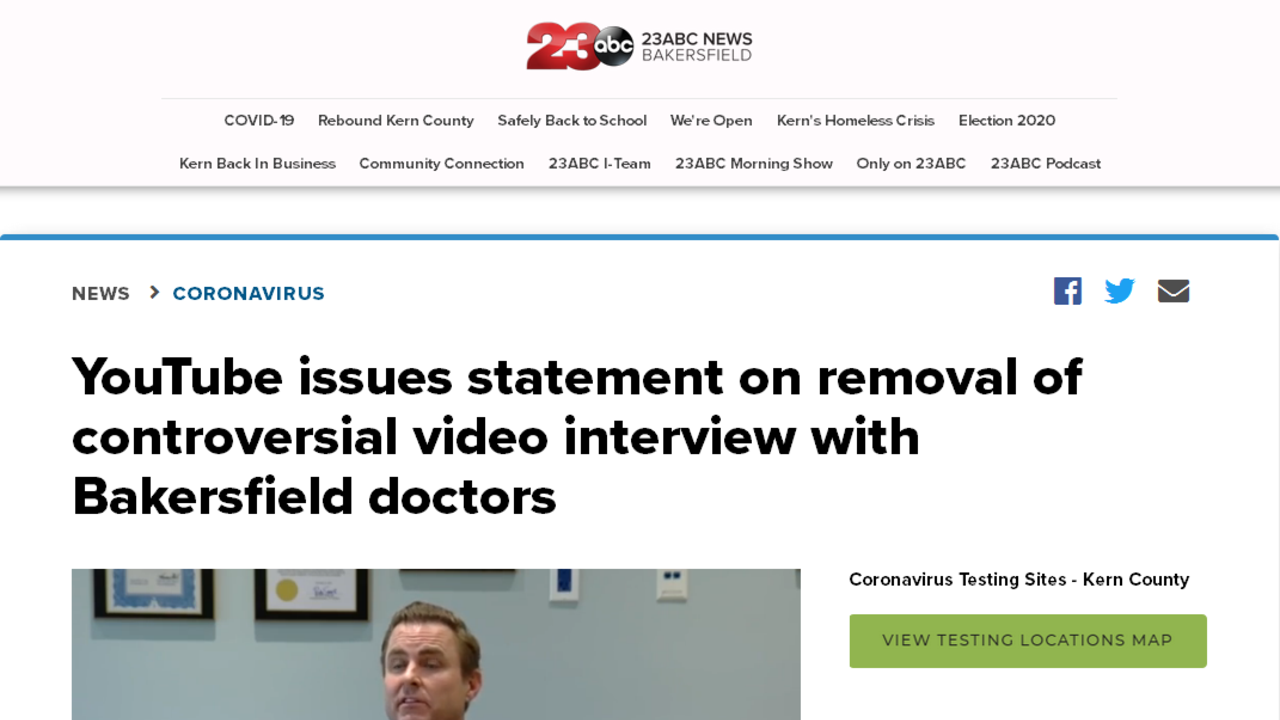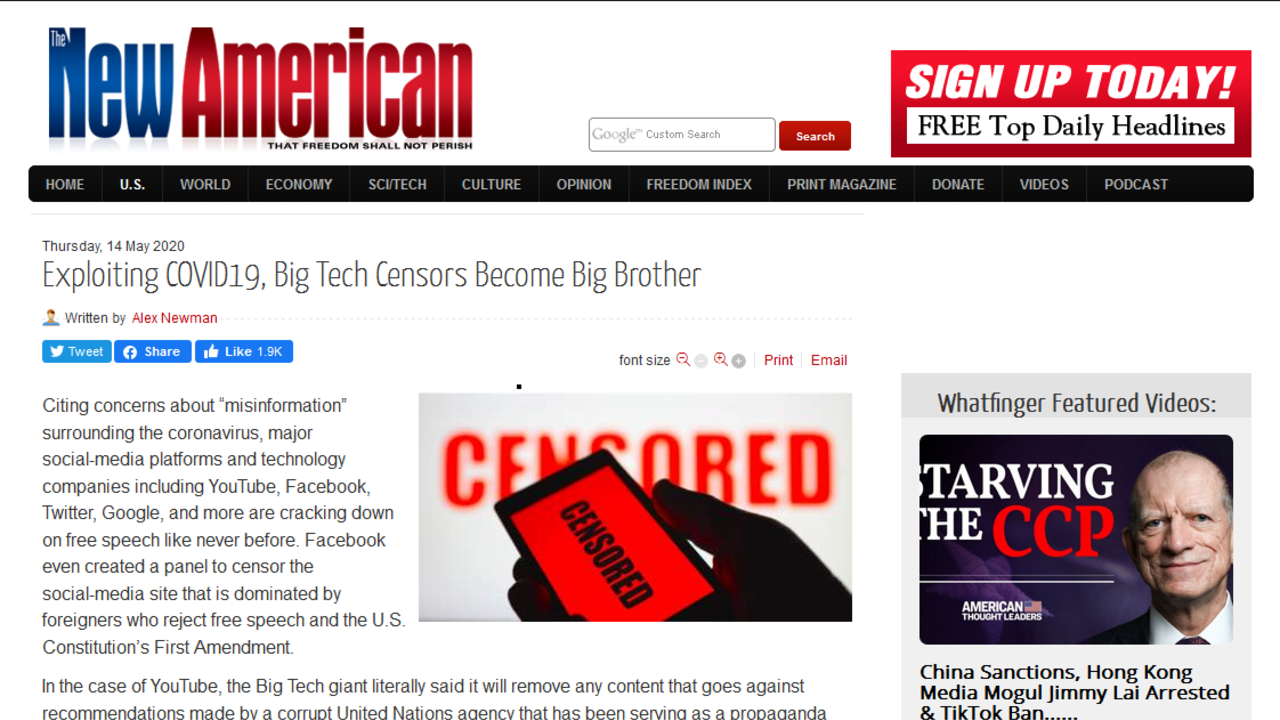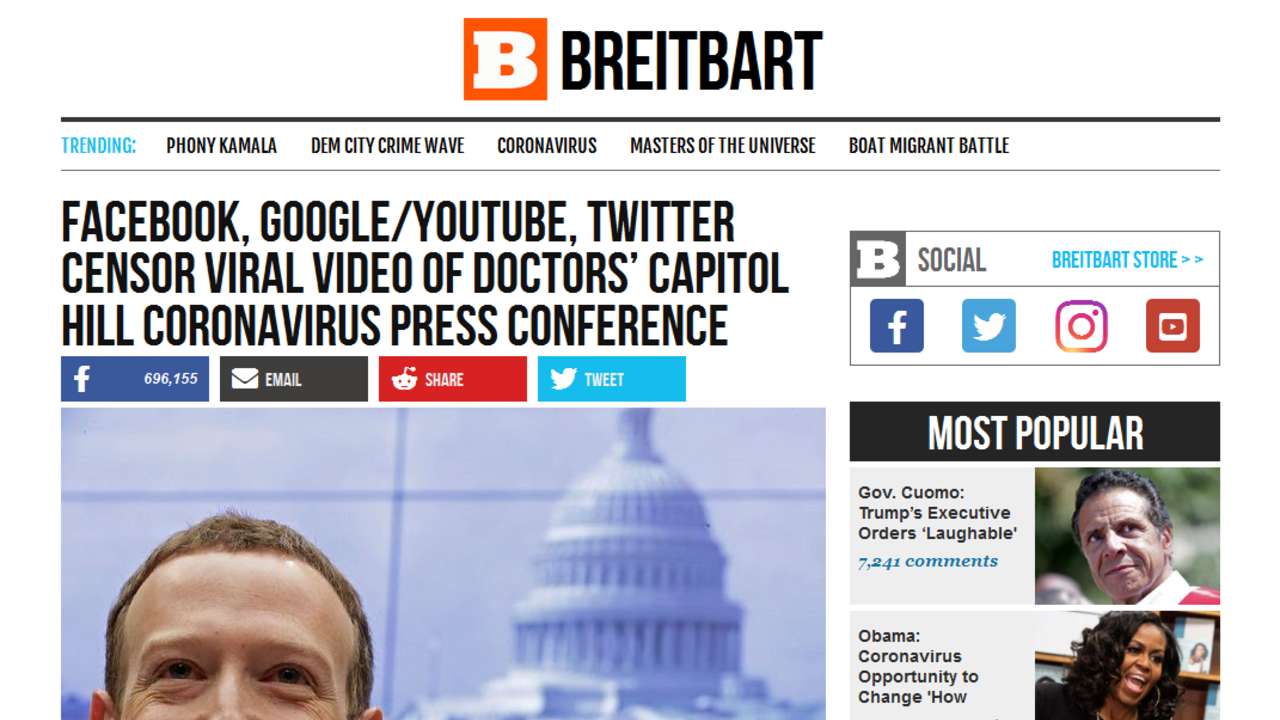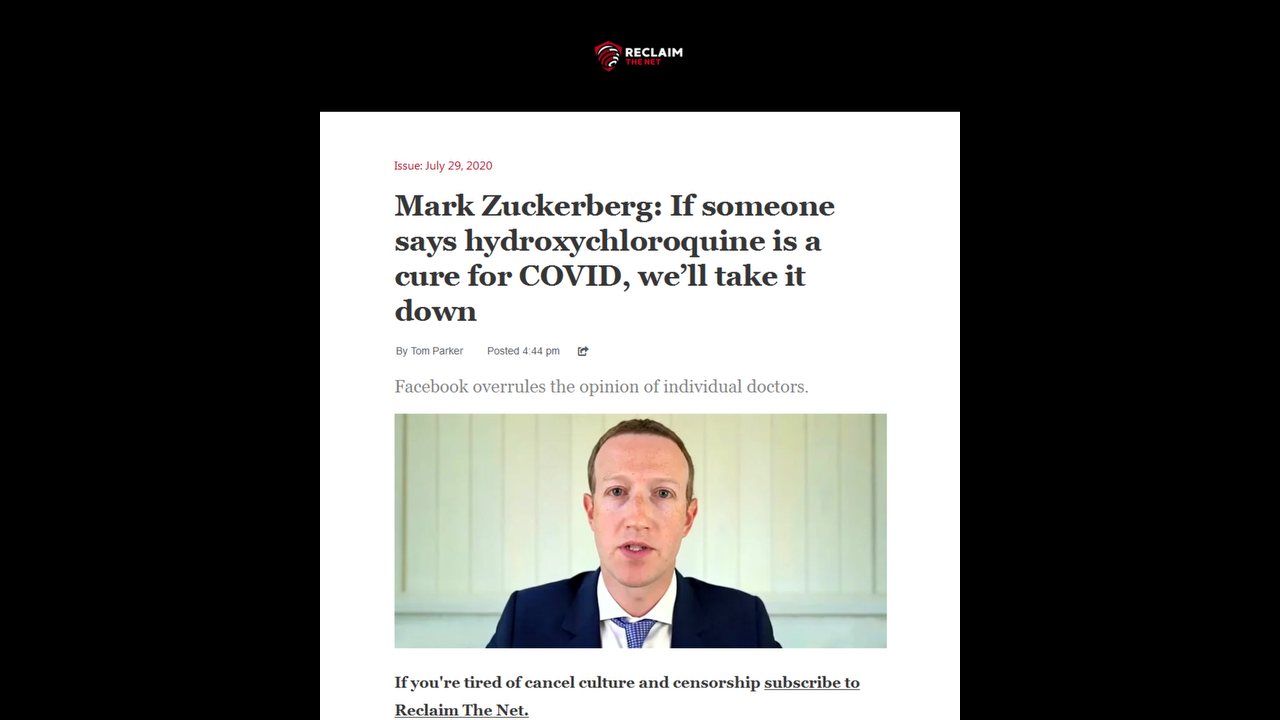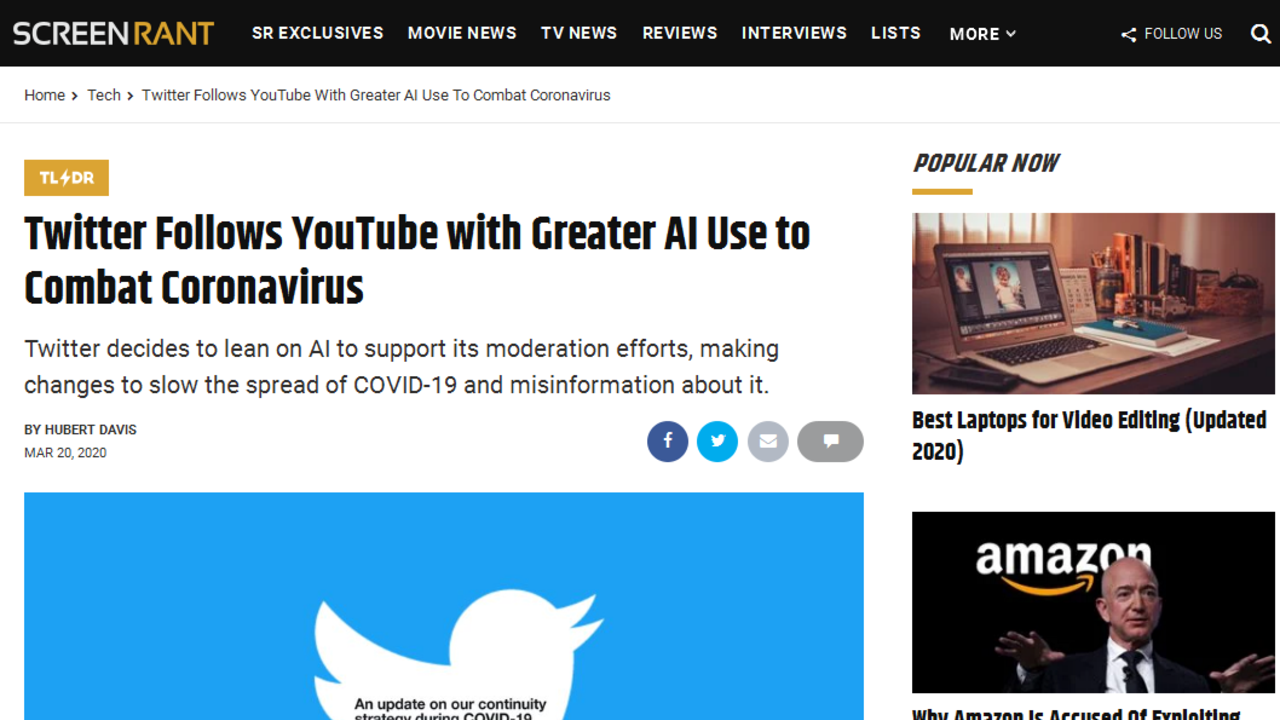 VIDEO: (March 15, 2020) Polly St. George - Event 201: Viral Marketing
15:12-15:17 "Yeah, they don't want anyone thinking their own thoughts. They want
their
thoughts to be in our head."
---
6. Surveillance?
The subject of surveillance appeared nine times during Event 201:
[Segment 1]
10:27-10:32 (Michael Ryan) "Have we established the surveillance and risk assessment systems..."12:15-12:21 (Michael Ryan) "We have completed external evaluations of surveillance and response systems in over 100 countries..."35:10-35:18 (Timothy Evans) "...low income countries are either, their surveillance systems aren't sensitive enough to detect cases that are already there..."47:50-47:54 (Tom Inglesby) "These are different healthcare systems, different data collection, different surveillance, so..."48:05-48:12 (Tom Inglesby) "And we think that's partly where largely due to surveillance systems, and the slowness of collecting this data, certain parts of the world."
[Segment 2]
00:40-00:42 (Caitlyn Rivers) "...lack of surveillance in many parts of the world."
[Segment 3]
00:42-00:46 (Caitlyn Rivers) "...many countries are having trouble keeping up with surveillance and laboratory testing."
[Segment 4]
00:31-00:35 (Caitlyn Rivers) "...and those who aren't may simply not have the resources to conduct surveillance."
[Segment 5]
00:34-00:41 (Anita Cicero) "...interventions such as isolation of the sick, social distancing, disease surveillance..."
All but one of the times "surveillance" was mentioned, it was by those running the exercise, rather than by the participants; and often in the introduction to one of the five segments. The use of this subtle, prepositioned suggestion, as well as the implicit assumption of mass surveillance's moral rightness displayed by all involved, demonstrates a disdain for individual privacy that will be seen repeatedly, and with increasing intensity, as this documentary progresses.
---
7. TimingVIDEO: (March 10, 2020) Polly St. George - Event 201: Global Pandemic Exercise
25:44-26:02 "Event 201, their pandemic planning exercise that they did in October 2019, that made it out in that article in December 2019, and then boom, it happens in real life."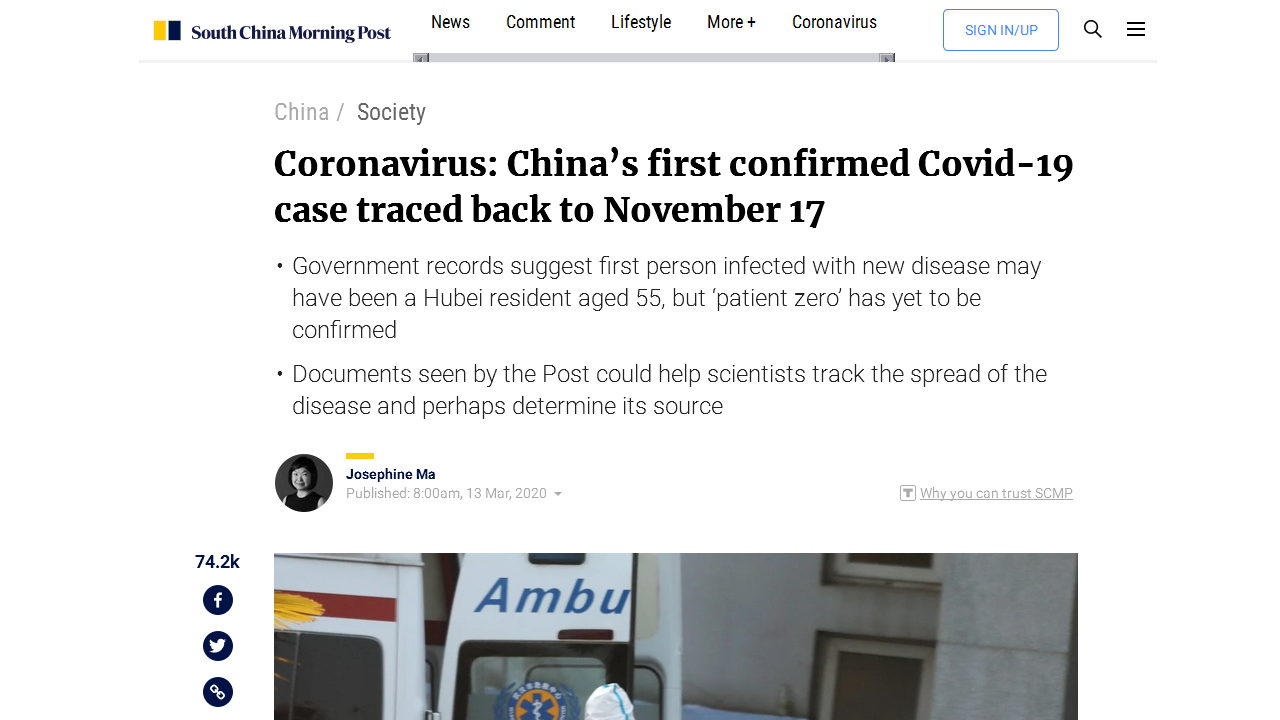 The first confirmed case of "novel coronavirus SARS-CoV-2" is officially documented as having occurred on November 17, 2019 -- exactly thirty days after Event 201 took place.
Last edited by TheArchivist on Mon Nov 22, 2021 6:59 am; edited 23 times in total
---
PART III: WHO AND WHY, PART I
THE PRESENT PLAYERS
---
Last edited by TheArchivist on Sat Sep 25, 2021 9:10 pm; edited 7 times in total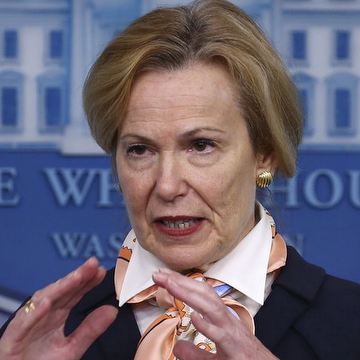 Deborah Birx
Response Coordinator, U.S. White House Coronavirus Task Force
Head of the President's Emergency Plan for AIDS/HIV Relief
---
a. VIDEO: (April 7, 2020) PBS NewsHour - Trump gives coronavirus update alongside WH task force
01:39:08-01:39:24 "...I mean, the great thing about having forms that come in, and a form that has the ability to mark it as CoVID-19 infection, the intent is, right now, that those... if someone dies with CoVID-19, we are counting that."
b. VIDEO: (April 16, 2020) Jeff Censored - Deborah Birx: We Need SENTINEL Surveillance of Everyone
02:29-03:46 "So, testing, and contact tracing; and Dr. Redfield will be putting people in every single state to make sure that CDC is standing beside the state and local health officials to make sure that all of those cases are immediately identified and contact-traced. I think what's new and what's really critical is this constant SENTINEL surveillance for asymptomatic individ-" "Constant SENTINEL surveillance for asymptomatic individuals in the community. They're basically telling you that everyone is going to be tested." "...what's new and what's really critical is this constant SENTINEL surveillance for asymptomatic individuals in communities that we know are particularly vulnerable. And that hasn't been done in flu before and I think that's going to be the added dividend that's really focused on who is most vulnerable and how do we get the fastest alert by generally screening people without symptoms, so people who are just-" "Generally screening people without symptoms. Wow."03:54-04:39 "...do have enough testing capacity to do both that surveillance piece as well as the diagnostic piece and contact tracing. ... And I think that's going to be the added dividend that's really focused on who is most vulnerable and how do we get the fastest alert by generally screening people without symptoms, so people who are just coming to the clinic will be screened for CoVID-19." "So, just people that's just coming to the clinic... you could be going to the clinic for anything; you'll be screened for CoVID-19. Along with the contact surveillance. The language is key here, because she's saying this is for all 50 states, and that they're all going to do this."
c. VIDEO: (March 20, 2020) Polly St. George - We Are Being Played
03:50-06:48 "That woman who is acting like everybody's mother when she talks to us. I can't stand her patronizing tone. When she talks, all I can think of is grooming. She's grooming. She is not being sincere; she's not genuine; she's not giving us proper facts. What she's doing is like psy-op/NLP. NLP is, like, neuro-linguistic programming, a sort of hypnotism using trigger words, using emotional flashpoints, appealing to ego, appealing to fear, appealing to guilt, and your conscience... In fact let's listen to something that she said about Millennials and the new data coming out. Listen to this:

[Video]

What was that? She strokes their ego: 'You're the greatest, biggest generation, with all this creativity, and you think outside of the box, and you're able to use digital technology like nobody else, and you're so good at video games. I'm so bad at video games! Ha ha!' And then she switches to 'You guys are responsible for teaching the world about this.' She tries to scare them with this new data that's supposedly coming out. And she doesn't even make any sense. Listen to this part again: [Video] So is it rare...? Or is it actually quite common? It's things like that that make me doubt."

28:27-29:11 - "Debra Birx's whole job is just to get the money. She doesn't care what happens after. Maybe she gives it to people who can do her favors in other ways. But she's terrible, terrible at choosing people who will actually help other people. And yet! And yet, she was chosen by Mike Pence. to lead this thing, where your, where the American people's tax money, by the hundreds of billions, is being hijacked from actually helping people, to give to corporations and small NGOs and bit players and foreigners, who want to come in and loot America."

07:12-07:42 "So, in this post from March 16th, 2020, from The Washington Times, it talks about the background of Deborah Birx. 'White House Coronavirus Response Coordinator, Dr. Birx cut her teeth in public health with the HIV/AIDS epidemic starting her career in immunology in 1985... blah, blah, blah... she rose to be the head of the President's Emergency Plans for AIDS Relief. And this they call PEPFAR."

11:24-12:22 "Here's an article, from January 2017, from Bono's foundation called 'ONE'. 'ONE applauds Trump decision to retain Deborah Birx as an interim Global AIDS Coordinator'. Interim. Interesting. And do you see who lobbied hard for Birx to stay? Vice President Mike Pence and Ivanka Trump. They're the ones that wanted Deborah Birx to stay on. Along with, clearly, Bono. And here's more from NPR, July 2018: 'Praise for the global HIV program that Trump wants to cut'. The Trump administration has been lobbying to cut nearly a billion dollars out of PEPFAR's 4.5 billion a year budget. They want to streamline the program -- and nobody liked that either. Nobody wanted anything to change about this PEPFAR foundation, or PEPFAR program."

14:09-15:11 "The Global Fund is directly underneath PEPFAR. PEPFAR gives most of its money to the Global Fund. And then it's overseen by a U.N. Department, a United Nations Department. And that United Nations Department refuses to let their disbursements and their financial activity be audited. They let a few people... a few select individuals are the only ones that get to look at the books of this thing. And they don't get to look at all of the books; they only get to look at about a third of the transactions. So you can see how this goes. The Global Fund is committed to eradicating AIDS/HIV, tuberculosis, and malaria. It's been around a long time, and are those things solved in any way? No, but they have made certain people a lot of money. A lot of money."

15:11-15:21 "I want you to notice that one of the board members of the Global Fund is Kieran Daley from the Bill and Melinda Gates Foundation. Another board member is Deborah Birx."
Last edited by TheArchivist on Tue Sep 21, 2021 8:20 am; edited 9 times in total
Page 2 of 10 •
1, 2, 3, 4, 5, 6, 7, 8, 9, 10
---
Permissions in this forum:
You
cannot
reply to topics in this forum