Page 3 of 3 •
1, 2, 3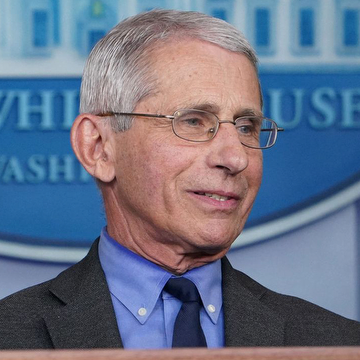 Anthony Fauci
Director of the National Institute of Allergies and Infectious Diseases
1. VIDEO: Fauci, Anthony S - Global Georgetown - 2017-01-10 Pandemic Preparedness in the Next Administration
03:11-03:36 "And if there's one message that I want to leave with you today, based on my experience -- and you'll see that in a moment --  is that there is no question that there will be a challenge for the coming administration in the arena of infectious diseases, both chronic infectious diseases, in the sense of already ongoing disease -- and we have certainly a large burden of that -- but also there will be a surprise outbreak."
2. VIDEO: Bloomberg News - 2020-03-11 Fauci Says CV Ten Times More Lethal Than Seasonal Flu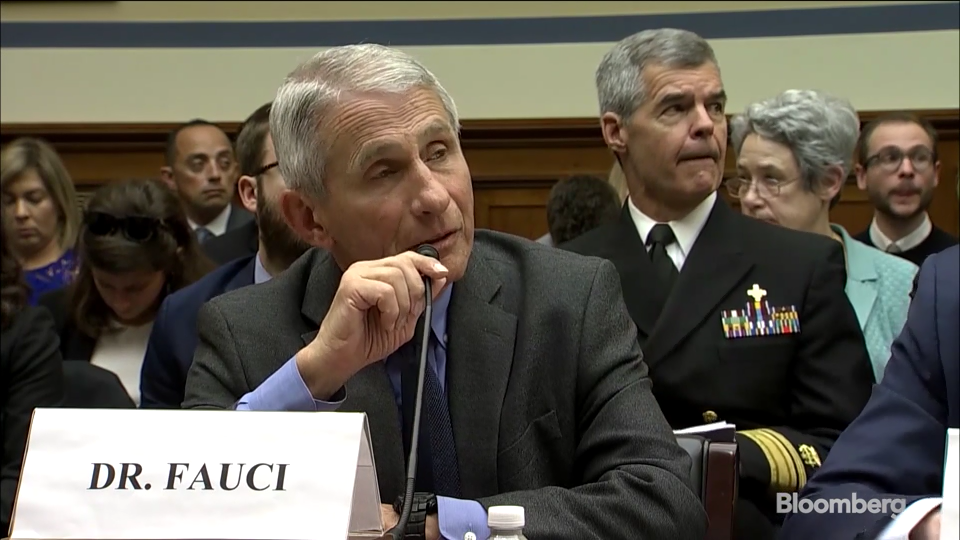 01:05-01:13 "Which means it is ten times more lethal than the seasonal flu. I think that's something that people can get their arms around and understand."
Note that this clip was aired on March 11 -- just eleven days after Fauci had published his paper in the New England Journal of Medicine stating that CoVID is equivalent in fatality to seasonal influenza.
3. VIDEO: 60 Minutes - 2020-03-08 Dr. Anthony Fauci talks with Dr. Jon LaPook about Covid-19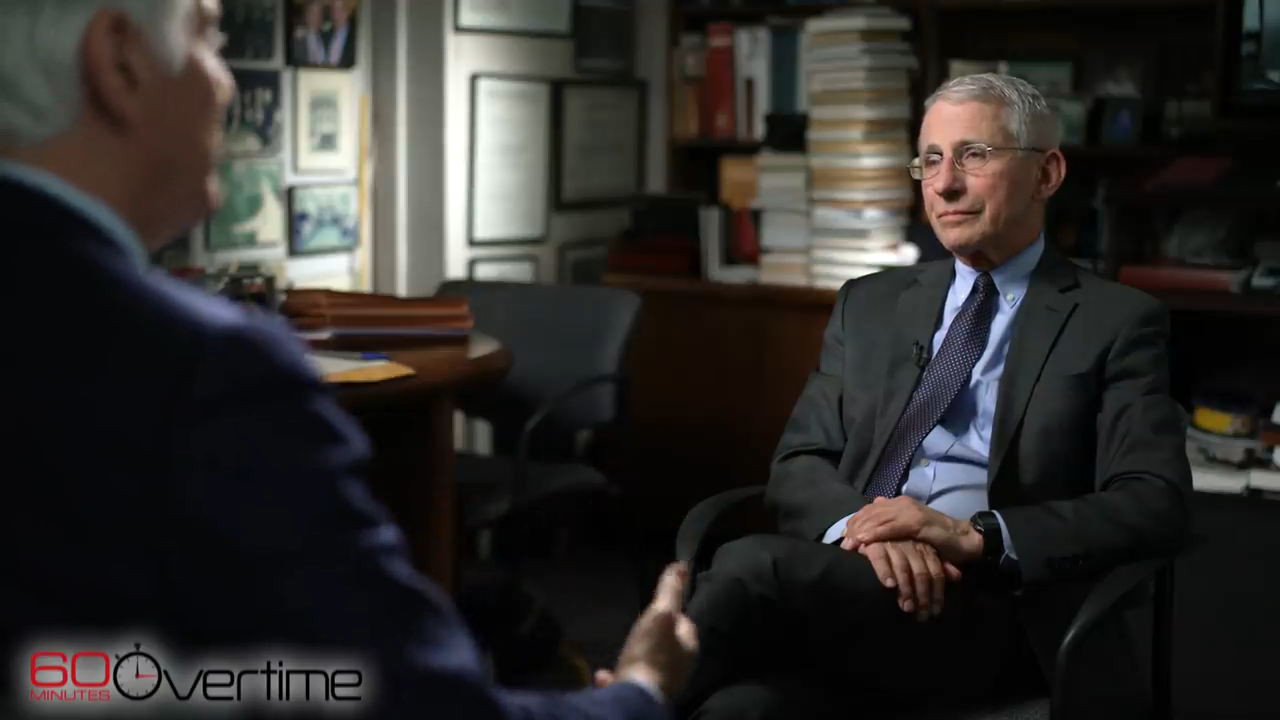 00:33-01:24 "Now, when you see people, and look at the films, in China, or in South Korea, whatever, and everybody's wearing a mask... right now, in the United States, people should not be walking around with masks." "You're sure of it? Because people are listening really closely to this." "Right now, people should not be, there's no reason to be walking around with a mask. When you're in the middle of an outbreak, wearing a mask might make people feel a little bit better, and it might even block a droplet, but it's not providing the perfect protection that people think that it is. And often, there are unintended consequences. People keep fiddling with the mask and they keep touching their face." "And can you get some schmutz sort of staying inside there?" "Of course; of course. But when you think "masks", you should think of healthcare providers needing them, and people who are ill."
4. VIDEO: Dr Fauci says he hopes we don't have herd immunity, pushes for vaccines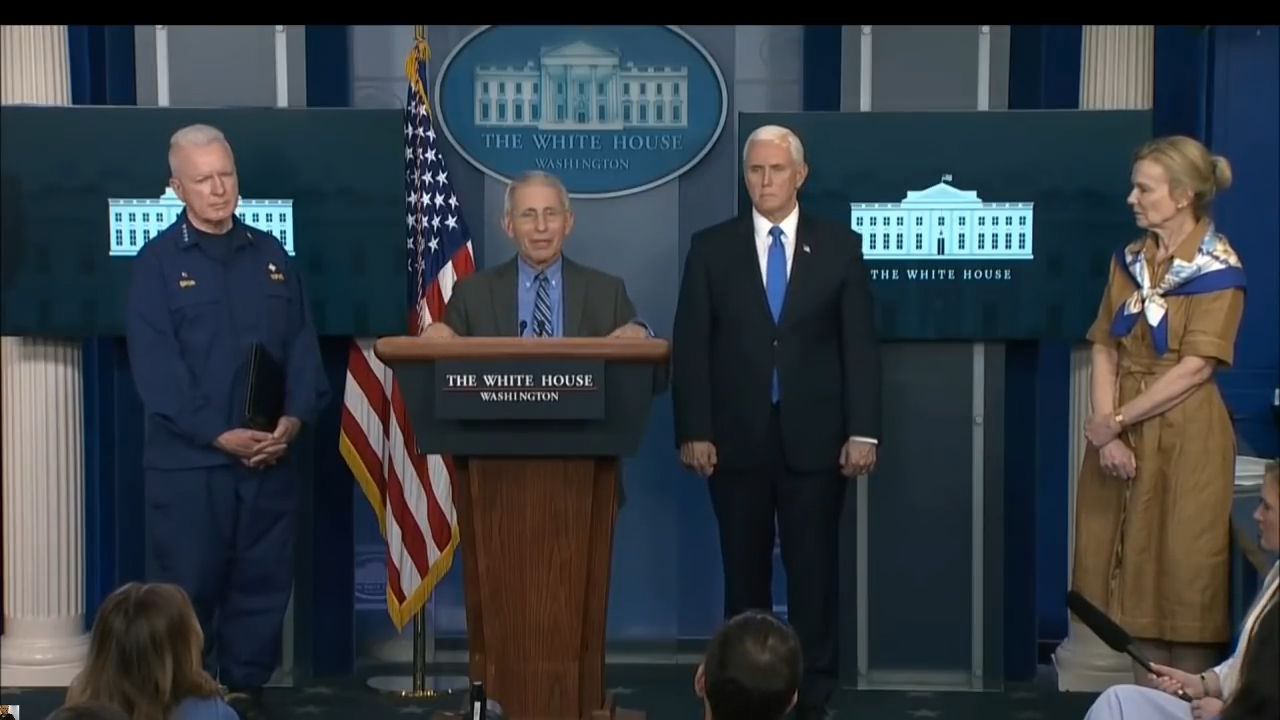 00:28-00:31 "I hope we don't have so many people infected that we actually have that herd immunity."
5. VIDEO: CNBC - 2020-05-12 Dr. Anthony Fauci's Senate testimony highlights (No guarantee vaccine will be effective)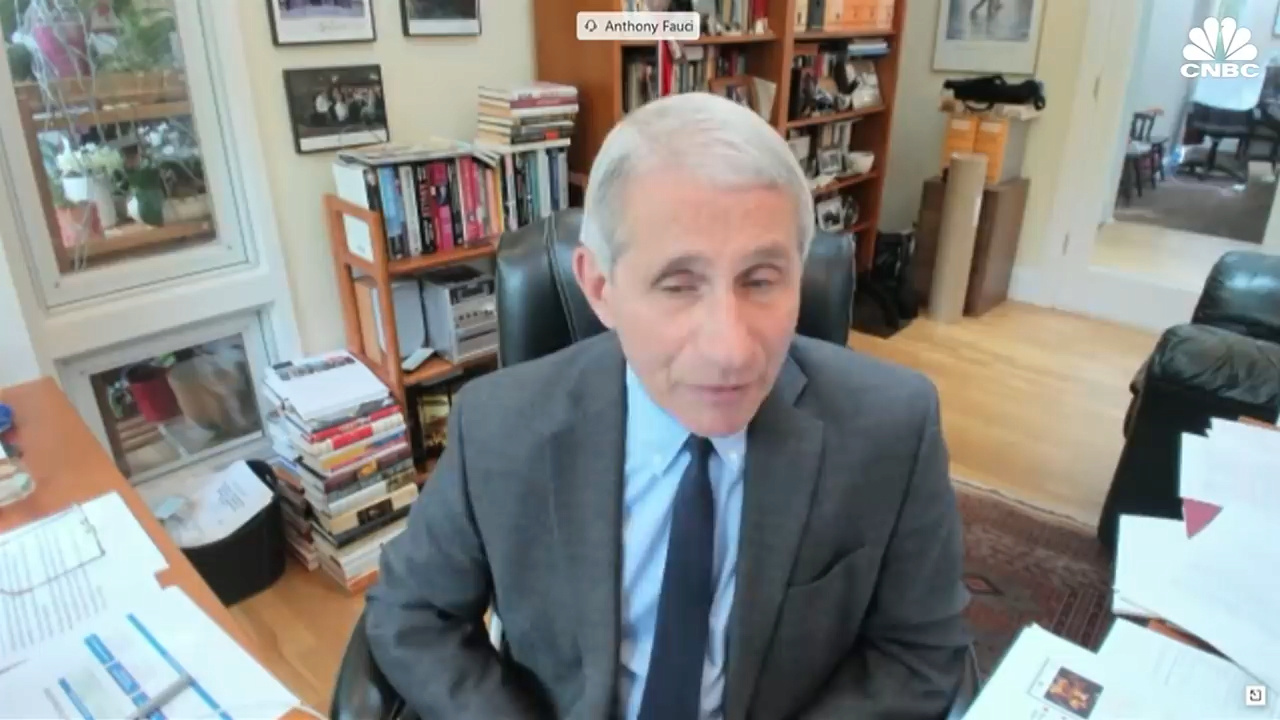 05:37-05:40 "There's no guarantee that the vaccine's going to be effective."
6. VIDEO: Polly St. George - 2020-03-20 We Are Being Played
13:35-14:00 "Another person involved with PEPFAR is Anthony Fauci. Anthony Fauci's always out in front as well. He is on the Coronavirus Task Force as well. He's the little tiny man that stands behind the podium and you can only see him from here up. Three people from PEPFAR on this coronavirus pandemic thing."
7. VIDEO: TruNews - 2020-04-29 Medical Mafia – NIH Whistleblower Dr. Judy Mikovits Exposes Anthony Fauci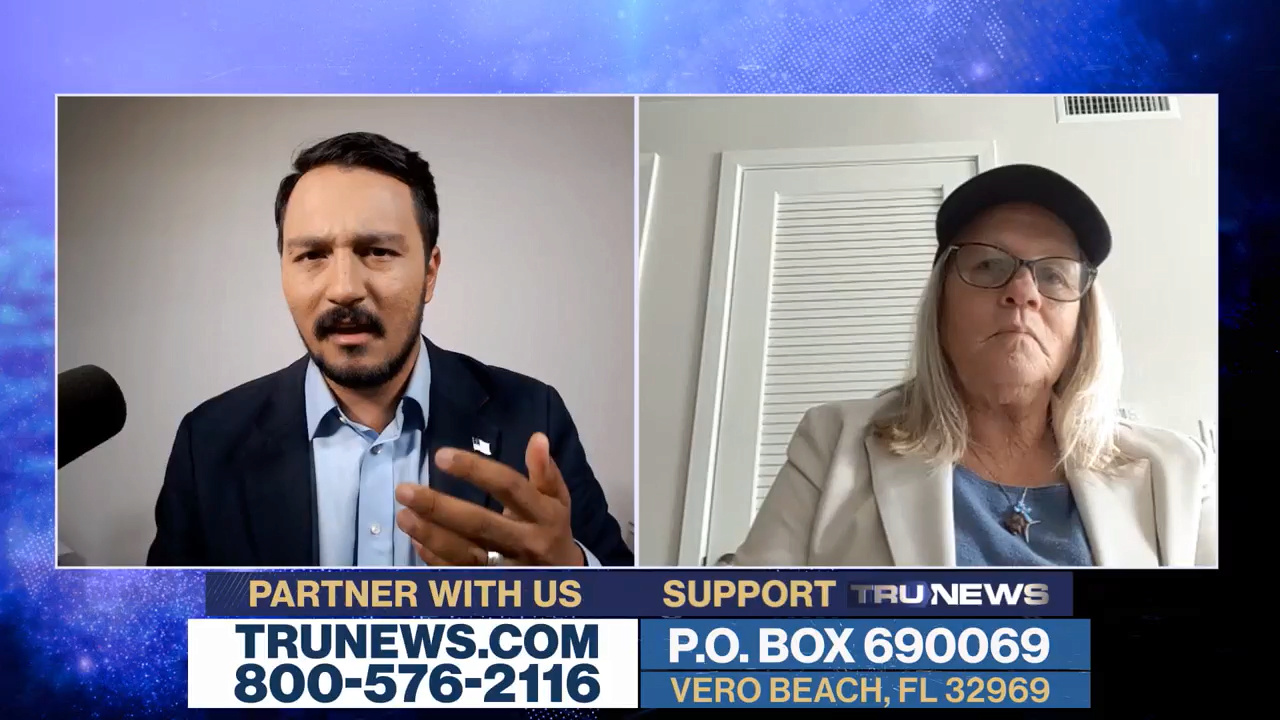 00:35-03:59 "Uh, yes, in 1983, I was a twenty-five-year-old laboratory technician working for Doctor Francis (Frank) Ruscetti, and we, I was part of the team that isolated HIV from saliva and blood, confirming Luke Montele's isolation of, he called it 'lymphadnopathy virus". At the time, we called AIDS 'Gay-Related Immune Dysfunction', GRID. And so I was part of the team that wrote that paper up in the summer of that year; Doctor Ruscetti was traveling, so I answered his phone, Dr. Ruscetti office. Tony Fauci was on the phone -- Anthony Fauci -- was on the phone with Doctor Robert Gallo of the National Cancer Institute, who had formerly been Frank Ruscetti's boss. So they called me to say that he understood that we had a paper in press confirming the isolation of the lymphadnopathy virus, and he would like a copy of that. I said, 'I'm sorry, I can't give you a copy of it, it's unethical, it's confidential, it's in press.' He, and, I believe, and Dr. Gallo began screaming at me, then saying I would be fired for insubordination. And I said, 'I'm really sorry; you can talk to Dr. Ruscetti when he gets back in town.' And that's the end of it. So Dr. Ruscetti came back to town, and I actually took that paper -- I should go back -- I took the paper, I was actually quite fearful, the kind of vitriol that came out of their mouths, and they kind of scared me, as did the other technicians when they heard this conversation, when they told me who this man was. Because I have no idea. I'm a kid; I'm twenty-five years old. And so, I actually took the paper and secured it, locked, you know, literally, in a box under my bed, and asked a friend to give me a gun to protect myself. That's how afraid I was at that time. (02:50) But frank, Dr. Ruscetti, came back to town, and he was bullied into giving Dr. Fauci the paper. (3:01) So a copy of the paper, he, Dr. Fauci had it removed from being in press, delayed its publication from the editors of a journal, and just delayed it to the point where Rober Gallo could copy it, claim he discovered the virus, and it wasn't the Luke Montele sample. it wasnt't the French LAV, it was a new one, he then called HDLV3. This really changed the course of history as millions died as they delayed the serological testing, the antibody testing, that could have prevented the spread of the virus across the country. And the knowledge of what it was and how it was herding. And that was my first encounter with Dr. Fauci and I did not have anpother encounter until 2010 and 2011."
03:59-08:12 "When we had isolated, in 2009, a family of mouse cancer-causing viruses from people with chronic fatigue syndrome, which, during HIV/AIDS were women and children, and they were considered non-HIV/AIDS because they didn't have HIV, but they had immune dysfunction and deficiency. And it was marginalized, and Tony Fauci, as the head of the NIAID for more than 20 years, made certain that that disease wasn't associated with an infection. Another doctor named Elaine Dufritas had isolated a retrovirus in the early 2000s, and her work was destroyed by Dr. Gallo and Dr. Fauci who said "Oh, we failed to replicate it," her career was destroyed as well. So we published our paper in the journal Science, mainly because Dr. Ruscetti was smart enough to avoid the cabal at the top of the HHS. He refused, ever since that day, to submit a paper through channels, because the highest levels of government have to check off that a paper is not against their, whatever they're telling the public.  So, I did not even know that when we submitted our paper in 2009. So, it came out in press, it was clear this was a new family of human retroviruses, our work proceeded over the next two years and associated it not only with the prostate cancer and some of the leukemias and lymphomas in our original paper, but with autism and childhood diseases. And then, of course, we found that the blood supply was heavily contaminated, just like in the early days of AIDS. So when it was found out, and one of our colleagues published, that the most likely way that mouse viruses got into humans was via biological therapies and the biggest one was vaccines. So that was basically the story in 2011, led by Tony Fauci and the NIAID. We had a five million dollar grant that I had received before our paper published, and, basically, under the direction of Tony Fauci, because I wouldn't cover up the data, because, once again, I refused to say the data weren't real, he initiated a bunch of fraudulent studies and had them published in journals in which his colleague was an editor, so that they could say 'all these negative studies weigh in, that you didn't discover it at all'. When the data kept coming up right and true, and I refused to renounce it, I was fired, and then, six weeks later, arrested, the entire contents of my homes and offices were, my office, was confiscated, under the direction of Tony Fauci, I only learned much later, when, and, all of my computers, all of my papers... I was removed from all of my grants as the principle investigator, my funding ruined. I still refused to renounce the data that the blood supply was heavily contaminated, and likely vaccines were driving this epidemic of disease caused by this HIV/mouse retrovirus that we now learned was aerosolized. Now cancer could cough through the air. And that was kind of the last straw. (07:48) So I was held in jail, I was, Fauci was directed by Francis Collins, September of 2010, at a meeting at the NIH clinical center, he was directed to fund a large, multi-center study to find out where the virus was, what the detail was, because the blood supply of London was also contaminated-"
8. VIDEO: Polly St. George - 2020-03-20 We Are Being Played
07:42-09:55 "I've got to read you this story about what John Kerry said as... in the ceremony for naming this woman to be head of this agency. It says 'the HIV/AIDS epidemic hit home for Deborah in 1983 immediately after the birth of her older daughter. Her obstetrician ordered a blood transfusion but she refused it based on her knowledge of the mysterious new infection that appeared to have contaminated the nation's blood supply.' She was a doctor at that point -- wasn't she? -- and she knew enough, she knew that the blood supply was tainted? She actually refused a supposedly life-saving measure for herself, or a very needed emergency measure, because she was that scared that she herself would receive AIDS-tainted blood. All right? Former Secretary of State John Kerry told that story at her April 2014 swearing-in as ambassador-at-large and U.S. global AIDS coordinator. Quote: 'And literally, just before she'd passed out from pain, Debbi screamed, "Do not let them give me blood," Mr. Kerry said.' Quote: 'Her husband refused the transfusion, and it is a mighty good thing that he did because the hospital learned later that the blood, the blood of her type that they would have used, was contaminated with HIV.' It raises red flags for me. What are the chances of that scenario? That scenario is possibly a complete fabrication; or Deborah Birx pretty much knew that the blood supply was tainted with HIV. Somehow. And plus, she lived through refusing a blood transfusion. She lived through it; she didn't get a blood transfusion. I don't know what's with that story, but the point to take away for me is: something's really wrong. So who is lying?"
9. VIDEO: TruNews - 2020-04-29 NIH Whistleblower Dr. Judy Mikovits Exposes Anthony Fauci
08:09-11:23 "...because the blood supply of London was also contaminated and it appeared the virus had spread around the world, almost certainly through contaminated cell lines and things like that, because all of our research is mouse cell lines, so, and people were getting sick. And this is what we grow our vaccines in." (08:28) "So,, Tony Fauci put a, I guess he told me I was forbidden to go to NIH as enlisted at NIH in the laboratories, that I was a 'fugitive from justice'. Yeah. So, I was arrested and my home ransacked November 18, when these, when this study was due to be published, on November 18, 2011. I was arrested without a warrant, without any due process. I was said to be a fugitive of justice. There was no charge. My home was ransacked and searched. I was held in jail for five days without bail, and with a bail hold on, that if I simply signed what was basically a confession -- that I'd done the whole XMRV thing for my greater glory, and I'm not even sure for whatever reason -- and that if I signed this apology to the patient community and the world, I would be released. And, and, I don't even know what else. I think the end of the apology said I would spend the rest of my life doing honest research, and my reply was that I've spent my entire life doing honest research, and would just as soon die as... you know, you kill me, but I'm not signing that piece of paper. So they carried out their threats all along while I was held in jail: the editors of Science 'lost confdence' in me, the paper was force-retracted, and over the next year and a half, the data for the multi-center study was done by me and Dr. Ruscetti with me on the telephone, telling him which picture under the microscope is virology, doing eveything we can to make sure that the study got done because we knew our work was right and true. Dr. Varmis insisted that the infectious molecular clone be put in the study, and the importance of that is: that's fraud. You can't put something in to contaminate, and it was agreed in the study not to do that, so when, against all odds, we found positive samples, in December of whatever year, Tony Fauci basically stopped the study, he said 'stop wasting NIH funds', and published a paper that was fraud, saying no XMRV was found, and that was the end of my career as I knew it; all the people were paid off, including Ian Lipkin, and everybody was given the grants, and the study went away."
10. New Eastern Outlook - 2020-04-15 The Remarkable Dr. Fauci
"Tony Fauci has held the top post at the NIAID in Washington for an astonishing 36 years. Today he is well past retirement age at 79, and holds the funds to determine which drug companies or university researchers will get precious government funds or not from NIAID's annual $5 billion budget.
Let's go back to 1984 when Fauci was named head of NIAID during the Reagan era. That year an AIDS researcher, Robert Gallo, working under Fauci, held a press conference to announce that he had "discovered" the AIDS virus. He said it was HIV –  human immunodeficiency virus. The shocking announcement, which went around the world, was in complete disregard of scientific procedures of prior peer-reviewed published scientific evidence, including the required electron microscope analyses. It was a case of 'science by press conference' as a critical scientist, Prof. Peter H. Duesberg described it. Duesberg was an award-winning researcher at Berkeley who isolated the first cancer gene through his work on retroviruses in 1970, and mapped the genetic structure of these viruses.
For Gallo and Fauci, that was unimportant as millions in research funds flowed into NIAID to research the new virus, HIV. Fauci and Gallo claimed that AIDS was highly contagious, also by sexual transmission, especially among homosexual men. Notably, before the Gallo claim to have found the HIV/AIDS virus, NIAID had been doing research on the role of drugs -- 'poppers' or nitrites -- proven immune-suppressants, in the deaths of the earliest AIDS patients. That was quickly dropped in favor of researching a 'cure' for AIDS. Media was told that AIDS was the 'public health threat of the century.' Gallo went on to make millions on his patented blood test for HIV, despite the fact that the test was often giving false positives and did not test directly for the alleged virus but for active antibodies, something immunology practice said was not valid, as antibodies merely suggested a past infection response and not necessarily presence of AHIV. At this time in the 1980'S Fauci was responsible for AIDS research at NIAID, a post he still holds.
False Tests?
The issue of HIV/AIDS tests is central. While a frightened world was clamoring for a test, Gallo and Fauci promoted their deeply flawed tests of antibodies. In 2006 Gallo claimed, "HIV tests were highly accurate from the time they were developed in 1984 and have become much more accurate over time…" Highly accurate in 1984 but more accurate than highly over time? Gallo added in response to criticism, "A PCR test for the presence of the virus itself can accurately determine a child's HIV status."
In a sharp rebuttal of the Gallo claims, claims endorsed by Fauci and the NIAID as well as CDC, Roberto A. Giraldo, MD and Etienne de Harven, MD, the scientist who produced the first electron micrograph of a retrovirus, pointed out that both the ELISA and Western blot, and a genetic test, the PCR or 'Viral Load' test," the two major tests used to determine if one has AIDS, are invalid. "None of these tests detect the HIV virus itself, nor do they detect HIV particles." They add that there are "more than 70 different documented conditions that can cause the antibody tests to react positive without an HIV infection." Among the false positive cases are influenza, the common cold, leprosy or the existence of pregnancy. The same tests are used today to determine SARS-CoV-2-positive."
"According to people who have studied the role of Tony Fauci as head of NIAID, his focus has been what is called scientific reductivism, described as "a 19 Century-style, single-germ theory for a complex web of factors that collapsed the immune systems of a subset of gay men in the early 1980s." He has refused to explore the documentation that a variety of lethal drugs and other toxins such as nitrites could play a role. As a result he has wasted tens of billions of taxpayer dollars since 1984 on dead end experiments. One of his most nefarious was his collaboration with Gilead Sciences.
Not satisfied with having developed a false positive test for AIDS and having gained FDA fast-track approval for AZT to treat HIV-positive patients with serious illness symptoms, Fauci decided to collaborate with Gilead (as in the Biblical "balm of Gilead") on what came to be called PrEP experiments."
"The FDA ignored two of the four Truvada tests that had failed and been halted. Despite that and owing to data manipulation by Fauci's NIAID and Gilead, the FDA approved the dangerous Truvada for PrEP. Today Gilead lists the side effects of Truvada: Kidney problems, including kidney failure; worsening Hepatitis B; too much lactic acid in your blood (lactic acidosis), which can lead to death; severe liver problems, which can lead to death; bone problems. They state that Truvada "can help reduce the risk of getting HIV-1 through sex, when taken every day and used together with safer sex practices."
"In October, 2019 Fauci and his NIAID got $100 million from the Gates Foundation to develop "gene-based" therapies for HIV and sickle cell disease."
"...NIAID is working with Gilead to conduct Phase II human trials on Gilead's drug, remdesivir, as a potential treatment for hospitalized adult patients diagnosed with COVID-19."
11. Given Fauci's history, it's not surprising that he has denounced doctors' recommendations to treat alleged CoVID patients with hydroxychloroquine, an inexpensive and readily-available drug...
VIDEO: MSNBC - 2020-07-29 Fauci Disputes Viral Video, Says HCQ Not Effective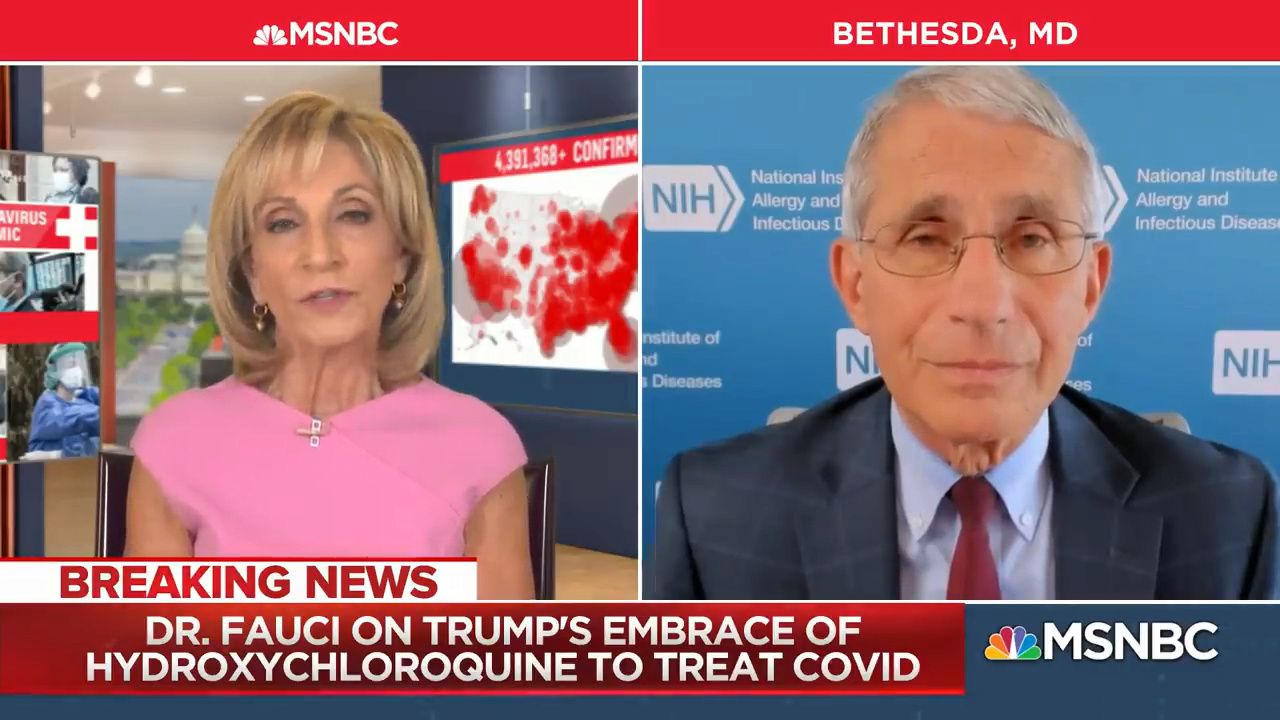 00:32-00:55 "...the scientific data, the cumulative data, on trials -- clinical trials that were valid, namely, clinical trials that were controlled in the proper way, all of those trials show consistently that hydroxychloroquine is not effective in the treatment of coronavirus disease, or CoVID-19."
...yet expressed enthusiastic support for the drug Remdesivir before its first clinical trial had even been completed.
VIDEO: ABC News - 2020-04-29 ABC News - Fauci: Remdesivir Drug Trial Shows "Quite Good News"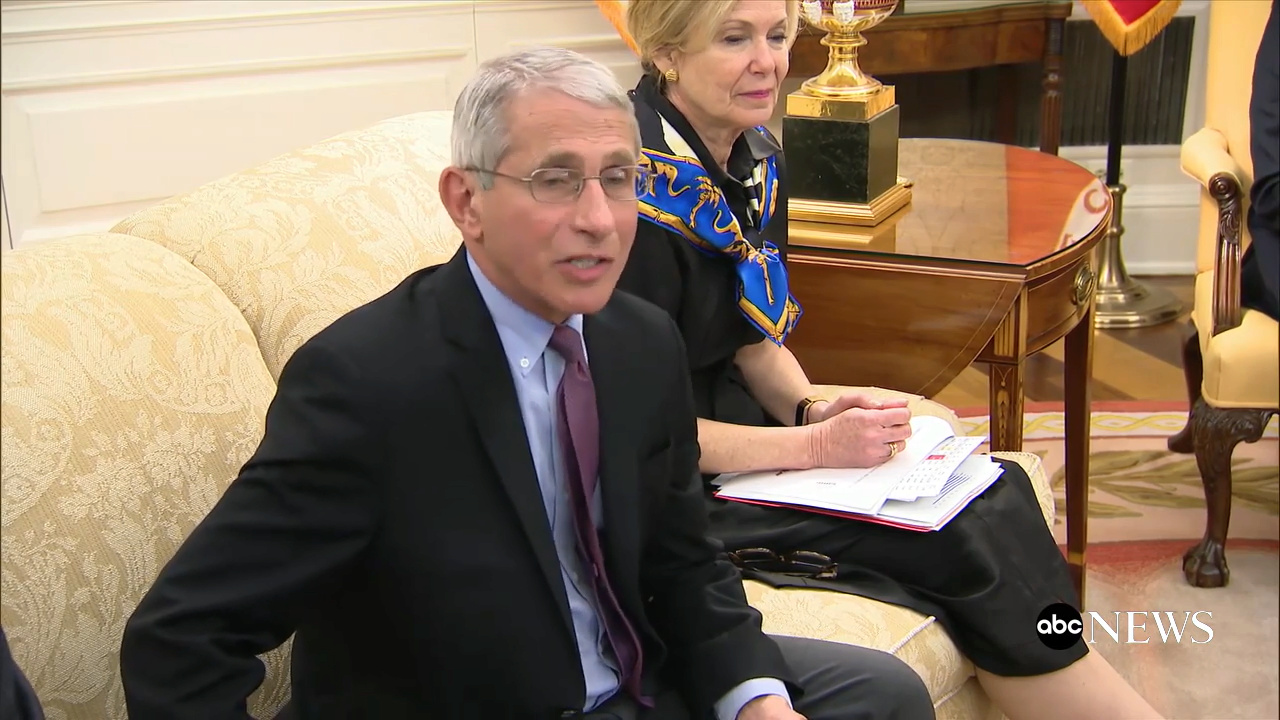 00:11-00:37 "...a trial that the National Institute of Allergy and Infectious Diseases which is the Institute I direct sponsored called the adaptive Co virus disease treatment trial acct one was started in February 21st of this year and it was a randomized placebo-controlled trial comparing the Gilead drug Remdesivir with a placebo..."
01:44-01:54 "...the data shows that Remdesivir has a clear-cut significant positive effect in diminishing the time to recovery..."
03:20-03:33 "...we would have normally waited several days until the data gets further the dot the I and cross the T but the data are not going to change some of the numbers may change a little but the but the conclusion will not change..."
12. Photo: 2001 Carnegie Medal of Philanthropy Recipients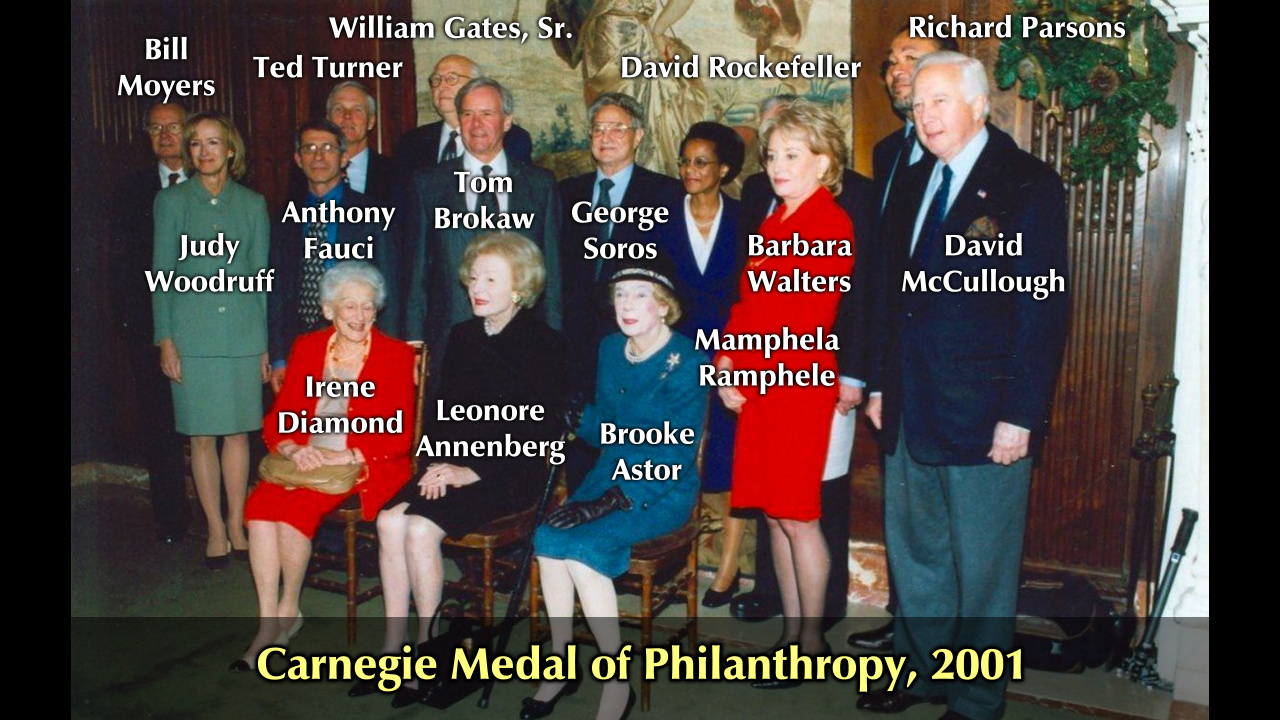 Here is a photo of the 2001 Carnegie Medal of Philanthropy recipients, including Anthony Fauci. Standing next to him are: Bill Moyers, Ted Turner, Barbara Walters, and Richard Parsons, all members of the corporate mass-media now "flooding the zone" with coronavirus disinformation; globalist oil baron David Rockefeller, whose family has probably exerted more influence to shape American life and culture than any other; George Soros, who's now infamous for his funding of disinformation and political manipulation campaigns; and, most interestingly in 2020, William Gates, Sr., an incredibly wealthy and powerful attorney, and, of course, father of Microsoft founder Bill Gates. Most of these people are unknown to the general public, but to those who have long studied the geopolitical situation on planet Earth, they're familiar faces, and are understood to have spent their lives committing serious crimes against the rest of humanity.
Segue:
VIDEO: CNN - 2020-06-30 Sen. Rand Paul challenges Dr. Fauci
02:56-02:59 "I agree with you, I am completely unqualified..."
Last edited by TheArchivist on Mon Dec 07, 2020 4:34 am; edited 5 times in total
Robert Redfield
Director of the U.S. Centers for Disease Control
As True Pundit reported on April 12th, a leaked internal Department of Defense document shows that Robert Redfield, Director of the CDC and member of the White House coronavirus task force, was known at least as far back as 1992 to be a serial offender of scientific fraud. At that time, Redfield was the head of the DOD's HIV/AIDS research project at the Wilford Hall U.S. Air Force Medical Center  -- and was assisted by Deborah Birx. In a letter dated October 21, 1992, from Major Hendrix and Colonel Boswell to Colonel Donald Burke, Hendrix and Boswell state:
"The problem of misleading or, possibly, deceptive presentations by Dr. Redfield, which overstate the GP160 phase I data, persists despite several efforts on your part to correct the problem. Last week, at the 32nd Annual ICAAC meeting in Anaheim, CA, Dr. Redfield again presented data in an incomplete and misleading fashion, despite assurances to the MMCARR in several recent meetings that be understood his past presentations to be in error and that he would refrain from repeating that error. If these actions are an intentional deception, it is an error of the most serious kind in science that betrays the trust of colleagues, patients and sponsors. Accordingly, we insist that further action be taken immediately to: (1) publicly correct the record in a medium suitable for widespread dissemination to our civilian scientific colleagues, (2) censure Dr. Redfield for potential scientific misconduct which should at least include temporarily suspending his involvement on the current immunotherapy protocols, and (3) initiate an investigation by a fully independent outside investigative body, such as the Office of Scientific Integrity of the N.I.H, to evaluate the facts of the case and recommend appropriate actions. Over the past two months. as you know, we have discussed all of the background issues Summarized below with the Directors of the ' Clinical nIV Prograhs'in the Army and Navy, Colonel Charles Oster and Captain waiter Kamey, respectively. Both officers support our conclusions and the three recommended actions."
"When Maj. Hendrix suggested publicly that Dr. Redfield's conclusions were 'premature' based on the wide variability of the viral burden assay (an observation with which Dr. Redfield agreed when Dr. Deborah Birx first raised it in the 15 SEP 92 meeting) he reasserted his conclusion that the data suggest an antiviral effect of the vaccine. He failed to seize the opportunity Maj Hendrix afforded to clarify his message. Furthermore. he failed to correct his published abstract, which states that the viral burden goes down after GP160 vaccination which, again, the data do not support. He clearly has not received the message of the 28 August and 15 September meetings, among others, or he has consciously chosen to ignore the message denying the serious consequences of this scientific misconduct."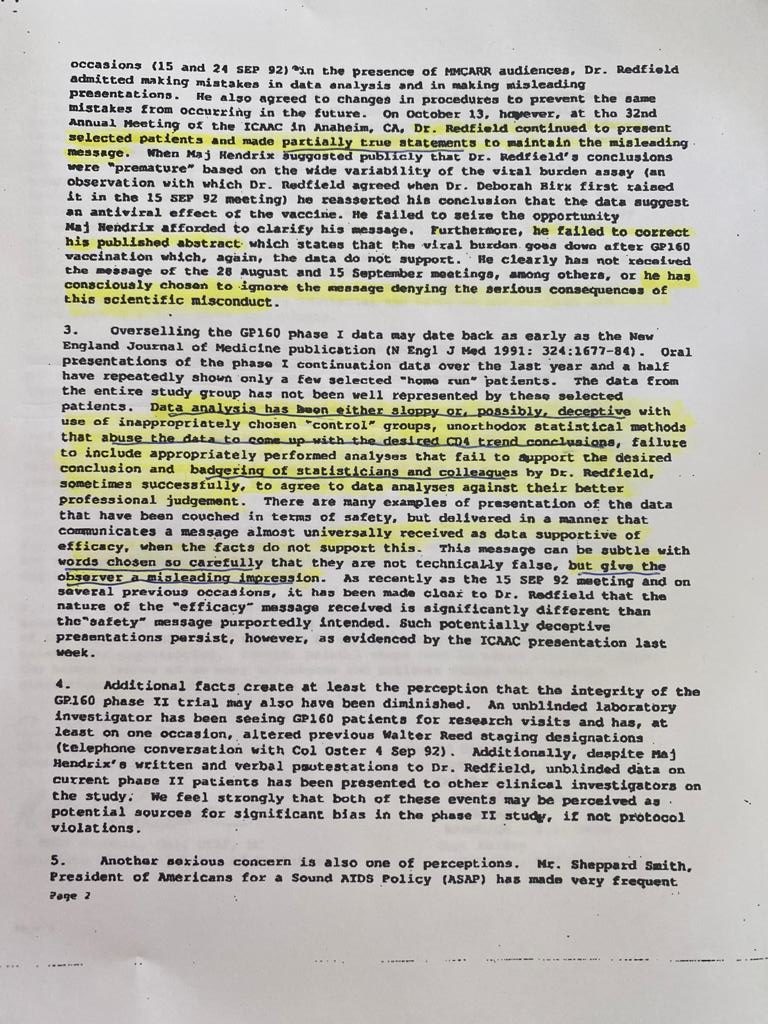 Last edited by TheArchivist on Wed Dec 09, 2020 12:09 am; edited 5 times in total
Last edited by TheArchivist on Tue Dec 01, 2020 9:59 pm; edited 1 time in total
Tedros Adhanom Ghebreyesus
Director-General of the World Health Organization
ARTICLE: Rough Estimate - The Crimes of Tedros Adhanom (March 25, 2020)
"Tedros Adhanom Ghebreyesus, as well as being the first WHO director without a medical degree, also has a somewhat political background compared to his predecessors. ... Tedros happens to be a member of the Tigray People's Liberation Front (TPLF) ... a communist revolutionary party that came to power in 1991. ... The TPLF was listed as a terrorist organisation by the U.S. government in the 1990s, and is still listed as one by the Global Terror Database because of its unfortunate habit of carrying out armed assaults in rural areas."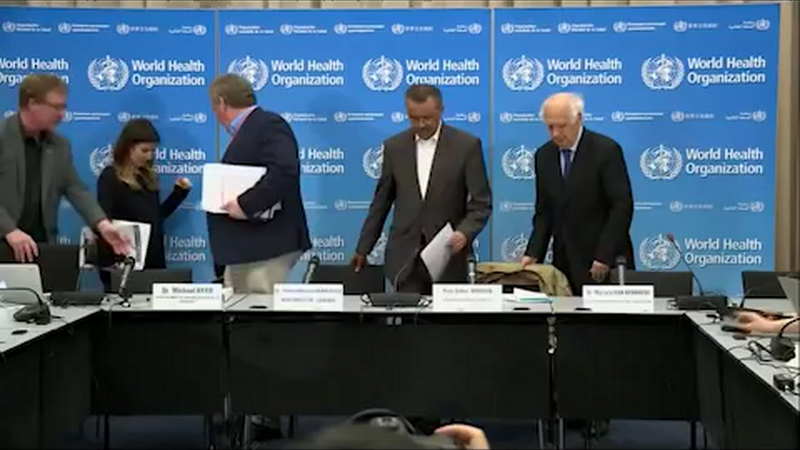 VIDEO: John Martin - WHO's Tedros Adhanom Should be Tried for Crimes Against Humanity (March 14, 2020)

05:41-08:33 "And one of the reasons, perhaps, Tedros' qualifications as Foreign Minister is not included on his online CV, might be because of the mass protests that engulfed the country in 2016. The Ethiopian government, a few years before, unveiled a plan to seize a thousand square miles of land mostly in the ?ian region, and this involved the forced relocation of fifteen thousand people. Which the government said was good, because where they lived they lacked infrastructure. But somehow, these ungrateful citizens didn't really appreciate the massive favor their government was doing for them, and mass protests broke out during a culture celebration in 2016. The police responded, at first, with tear gas; and, later, with mass shootings. The violence and resulting stampede killed an estimated 500 people, according to Human Rights Watch. The Foreign Affairs Ministry, headed by Tedros, issued a state of emergency, and arrested an estimated 70,000 people, and forced many opposition journalists into exile. Tedros, himself, got into a public spat with Human Rights Watch, after their presentation. First, he denied that the numbers were as high as they were, and then claimed the police at the event were unarmed and that no one died of shooting. No expert, myself, so I assume that, in this picture, Ethiopoia must have found a way to develop entirely non-lethal, assault-rifle-shaped devices. Impressive stuff. And so, this is the noble figure that ascended to the role of Director of the WHO in 2017. And, not being one to miss a chance to defend murderers, Tedros had previously argued against the international trials of Uhuru Kenyatta and his minister, under whose government 1,300 people had been killed after rigged elections. And so, not surprisingly, one of the first things that Tedros did after he took the job was to nominate Robert Mugabe a Goodwill Ambassador to WHO. Robert Mugabe, who, in the 1980s, had ordered the killings of 20,000 people in Zimbabwe. Tedros also, during the coronavirus outbreak, has never missed an opportunity to praise the good governance of China. And, given the human rights record of China, it's no wonder he likes them so much. China has funded billions in investment in Ethiopia, building 70% of their roads, financing mass media centers for propaganda, and, actually, financing the construction of the African Union in Ethiopia, which was found to have contained hidden surveillance by the Chinese government. And, actually, Tedros seems to see China as a model of development for his own country. Ethiopia also has forced relocations, social credit-style score cards for citizens, mass media propaganda. Ethiopia's government resembles a kind of low-rent version of China's authoritarian model, complete with a one-party state and focus on profits above human rights at all costs."
10:24-10:42 "Tedros, himself, was promoted by the Bill and Melinda Gates Foundation, who financed many large-scale health projects in Ethiopia previously that Tedros had helped facilitate. And so, they apparently wanted to facilitate similar projects on a global scale, and because they'd worked with Tedros in the past, it made sense to promote him at the WHO."
00:04-00:09 "Tedros Adhanom Ghebreyesus should be put on trial for crimes against humanity."
Last edited by TheArchivist on Wed Dec 09, 2020 12:06 am; edited 9 times in total
Last edited by TheArchivist on Tue Dec 01, 2020 10:00 pm; edited 1 time in total
Last edited by TheArchivist on Tue Dec 01, 2020 9:50 pm; edited 1 time in total
Page 3 of 3 •
1, 2, 3
---
Permissions in this forum:
You
cannot
reply to topics in this forum